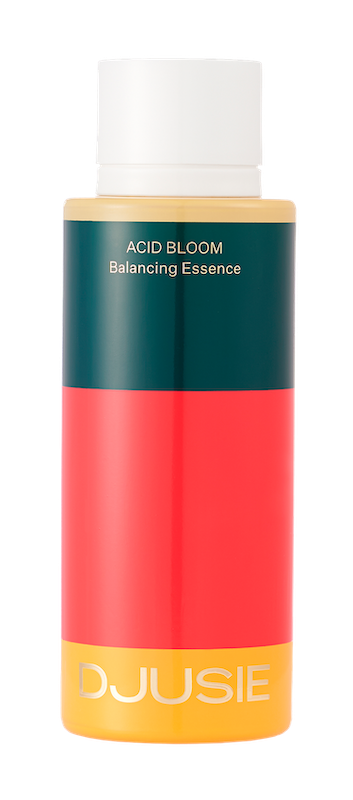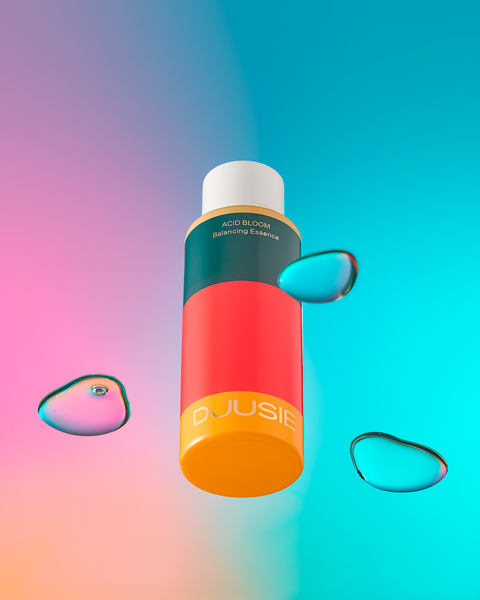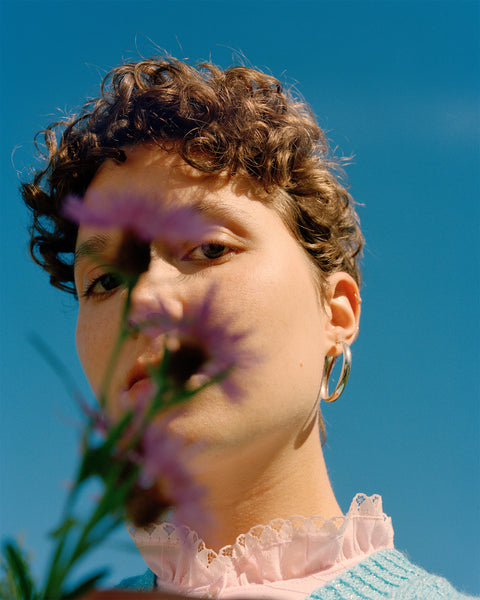 Acid Bloom balancing essence
Djusie
Show more
Acid Bloom takes perfect care of the pH balance in the skin. Acidic pH is important for ideal bacteria because good bacteria love an acidic and healthy environment. A daily dose of Acid Bloom keeps your skin hydrated, light, full and juicy.

The essence makes the skin firm and full, which gives it a great amount of hydration, glow and a fantastically juicy glow. Apple cider vinegar balances pH and brightens the skin, while PHA acid gluconolactone moisturises and supports a healthy skin barrier function.
How to use
Apply every morning and evening.
Let the essence penetrate the skin by patting it lightly on your face and neck using the Djusie Balancing Essence Ritual.
Enjoy a deeply moisturised and glowing feeling throughout all seasons.

Suitable for all skin types.
Key Benefits
Xylitol and betaine are wonderful sources of hydration. Gotu kola regenerates, calms and repairs. Reishi fungus helps prevent hyperpigmentation and soothe irritation.

Acid Bloom is perfect for all skin types, even for sensitive and reactive skin. The rich, full-bodied texture treats the skin with abundant hydration.
Hero Ingredients
Reishi, Xylitol, betaine, gotu kola, apple cider vinegar.

100 ml glass bottle. COSMOS NATURAL certified by Ecocert Greenlife according to COSMOS Standard.

Made in Finland
About the brand
Djusie is a visionary F-Beauty brand that offers a high-quality range of natural skin care products certified by Ecocert.
Djusie
Djusie is a visionary F-Beauty brand offering a high-quality natural skincare. But what do we actually mean by F-Beauty?
K-Beauty, known as the umbrella term for Korean skincare, is already an institution admired throughout the world. When we first started creating Djusie, it suddenly hit us like a lightning: Why doesn't F-Beauty exist yet?
F-Beauty stands for Finland but the other F-word, functionality, is essential too.
In Finland, we're sometimes too good at it. We need little wakeup calls to remember the importance of self-care, indulgence, and pleasure. That's why each Djusie product comes with a dedicated ritual. Needless to say, they are enjoyable, highly effective and simple by design.
Every movement starts with the first steps. Our ambition is not to compete with institutions like K-Beauty or make F-Beauty famous. Our goal is to celebrate our own natural Finnish way of doing things – and share the juiciest fruits with you.