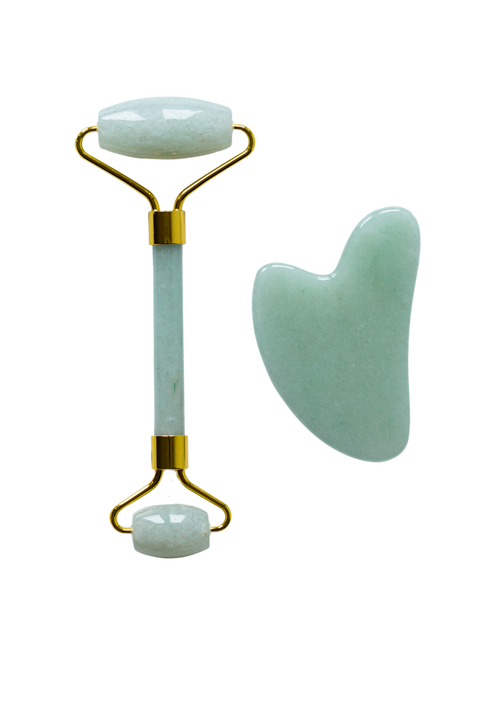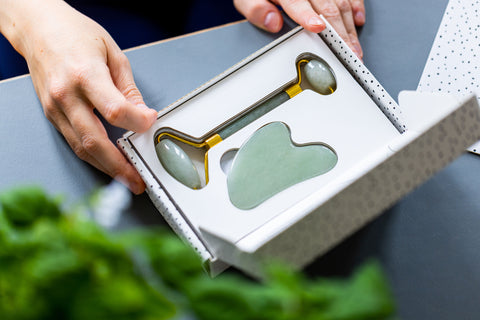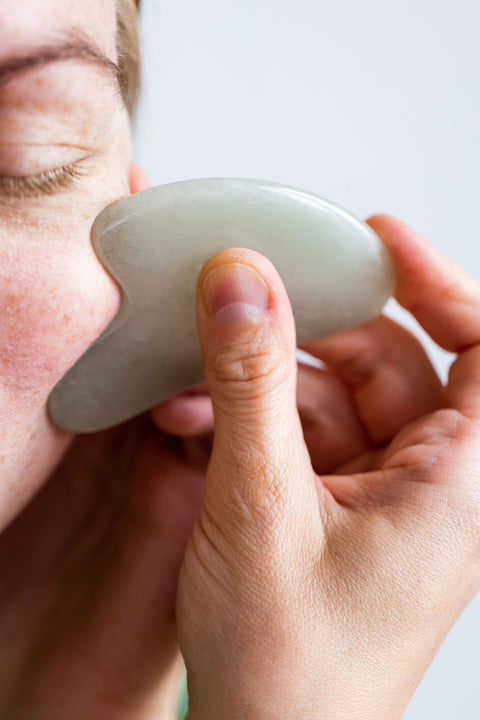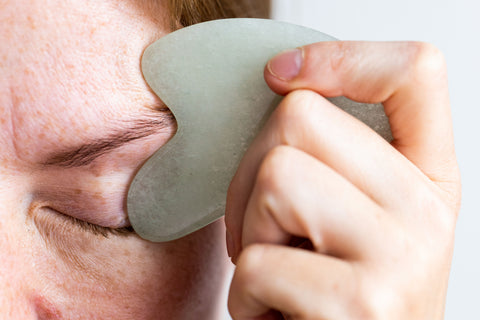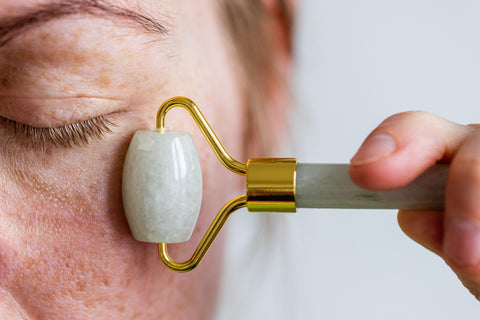 Gua Sha set
Grums Aarhus
Show more
The gua sha box consists of a jade roller and a gua sha stone. The set is made of incredibly durable, crystallised mineral jade.
Significantly increases blood circulation in the skin
Stimulates cell regeneration in the facial skin
Relieves muscle tension
100% vegan
Durable material
Weight : 225g
Packaging material : 100% biodegradable packaging
How to use
Facial roller : Roll with the small end of the face roller from the tip of the nose up to the forehead.
Use the large end of the facial roller from the side of the nose and towards the ear.

Gua sha : Move across the eye area and out towards the ear.
Draw across from the base from the temple up over the temporalis muscle.
Stretch the neck muscles from the bottom (clavicle) up to the base of the ears avoiding the front of the throat where the windpipe is..
Key Benefits
Use increases blood flow and cell renewal in the facial skin, which is crucial for the skin's collagen production and thus the skin's elasticity.

The effect is scientifically proven and the microflow of blood increases by up to 4 times during 8 minutes of use.

The use of gua sha and a facial roller stimulates the facial muscles and has good properties for relieving muscle pain and tension.



Hero Ingredients
Made from natural jade stone, shaped to fit the contours of the face and incredibly safe & easy to use.
About the brand
Grums is a Danish skincare brand, founded in 2016 in Aarhus, Denmark. Aarhus is their hometown and the centre of everything they do, including collecting the coffee waste used in their skincare products around the town on their cargo bike. Their values are that sustainability is not about preaching morality. It's about creating something that lasts.


Useful information about your shipping details
Show how much time customers have for testing your products
Let your customers know about local pickup