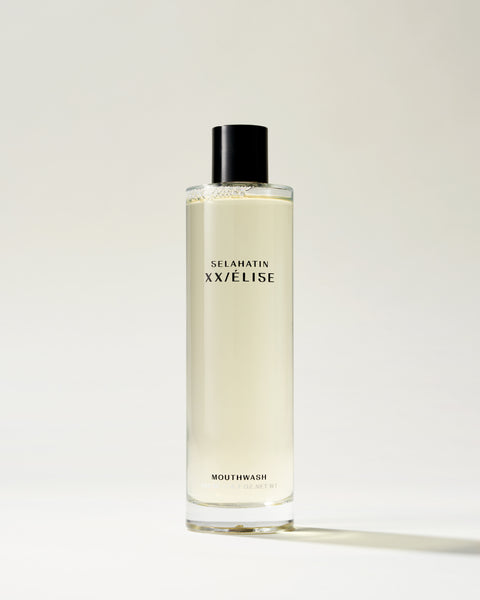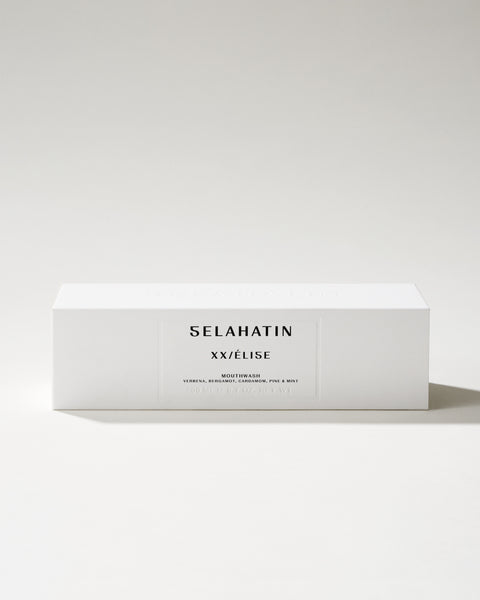 Mouthwash : XX/Élise
Selahatin
Show more
An alluring composition, with a chameleon soul. With intertwining notes of Sicilian Citrus, Turkish lime, and biting eucalyptus, the aroma is juxtaposing between cool and hot. XX/Élise will cradle you in a false sense of security with its initial light and crisp character before a raw and biting force will hit you like a kiss. 
200ml, in glass bottle, packaged in luxury white gift box. All recyclable.
How to use
Use once or twice a day after brushing your teeth.
Rinse in closed mouth for 30-60 seconds. Then spit out.

For best results it is recommended not to eat or drink for 30 minutes after use.

This mouthwash is a supplement – not a substitute – to your regular dental hygiene.

Do not:
1) Swallow.
2) Rinse mouth with water post use.
3) Use in case of a known hypersensitivity or allergy to one or more ingredients.
4) Use in association with other mouthwash products

For adults only. Keep out of reach of children.
Key Benefits
Anti-inflammatory
Inhibits bad breath
Moisturising
Protects sensitive teeth
Vegan/Cruelty free
Dermatologically tested
Counteracts dry mouth
Hero Ingredients
Citrus, Lime & Eucalyptus

Healing and anti-inflammatory chamomile extract
Anti-inflammatory, anti-bacterial and hydrating aloe vera
Antioxidant vitamin E strengthens skin barrier against free radicals
Sodium Citrate inhibits bad breath and strengthens the teeth's protective shield
Mineralising Cetylpyridinium Chloride repairs, fights bacteria and provides pro-active care for sensitive teeth.

225 PPM Sodium Fluoride
Antioxidants
Chamomile Extract
Aloe Vera
About the brand
Selahatin is introducing the future of oral luxury. With a series of whitening toothpastes, mouthwashes and oral sprays the brand has the ambition to elevate the emotional experiences of everyday ceremonies.

The brand has been nominated in Wallpaper Design Awards, named "one of the best grooming brands in the world" by GQ, called "the world's most sophisticated toothpaste brand" by Monocle Magazine and is being used by iconic designer Rick Owens. Founder Kristoffer Vural has been named one of the most innovative entrepreneurs in the world by Monocle Magazine.

Useful information about your shipping details
Show how much time customers have for testing your products
Let your customers know about local pickup