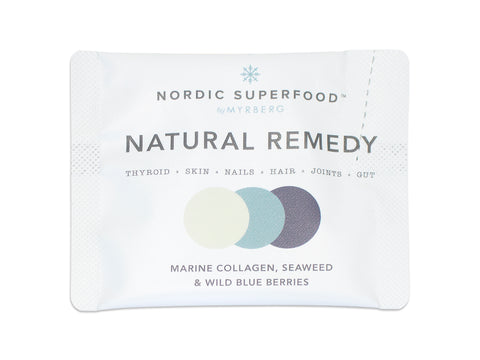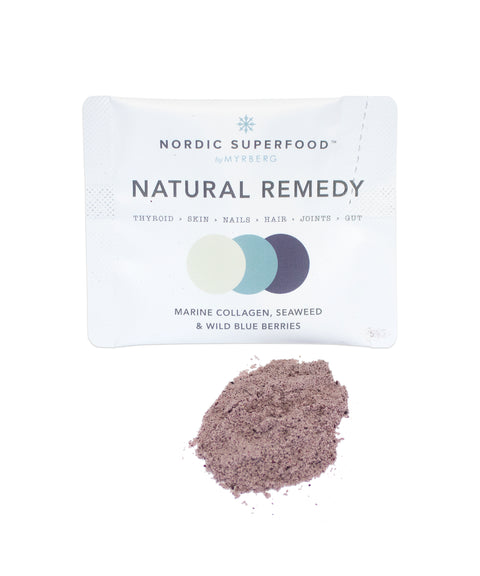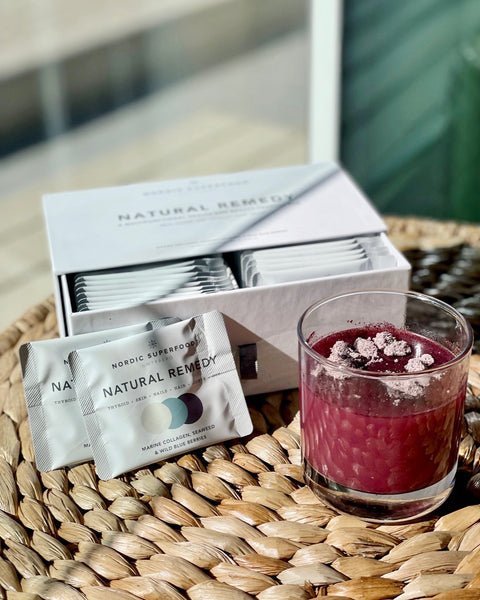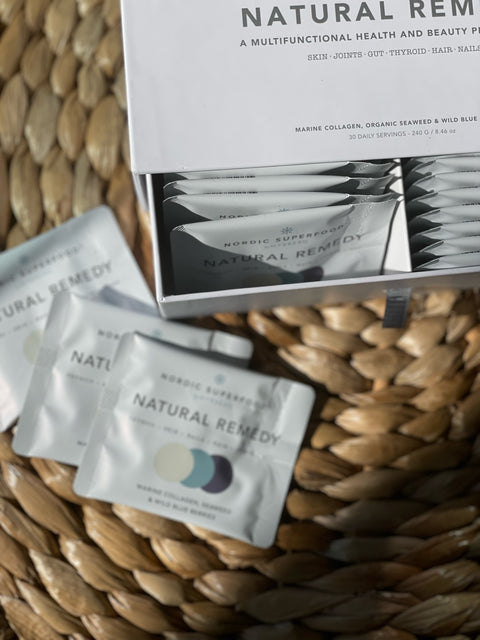 Natural Remedy
Nordic Superfoods
Show more
A unique product that contains collagen and iodine. Flavoured with natural berry powder from wild blueberries, aronia and black currants. 
Collagen Premium+, with documented results of up to a 35% increase in skin moisture and elasticity after 8 weeks of daily use, is essential for maintaining skin health as collagen production decreases with age. It also contributes to strong bones and healthy connective tissues. Additionally, this supplement enhances hair quality and promotes nail growth and strength.

Free from added sugar, gluten, lactose or other additives.
The box contains 30 daily doses to one month of consumption. 240g total volume.
How to use
A NATURAL REMEDY packet is taken daily and has a good and fresh taste of real blueberries, black currants and aronia berry.

The product is easily mixed in a glass or in your water bottle with any liquid. Oats- Almonds, Coconut, Rice or Soya drink or pure water. You can also use it as a topping in yogurt, porridge or mix in a smoothie.

Pregnant women and people suffering from an overactive thyroid gland should be careful with the intake of any products containing iodine. Consult your doctor if you are unsure and also read more about Iodine at the Swedish Food Agency.
Key Benefits
Collagen helps maintain and enhance skin elasticity and moisture, as well as the body's strength and flexibility in all types of connective tissues • 100% natural, without artificial additives, preservatives, heavy metals, or antibiotics • Contains collagen peptides of type I + III, primarily found in skin, hair, nails, connective tissue, tendons, and bones.

Algae and seaweed have a huge range of minerals, trace elements, vitamin groups, amino acids and essential fatty acids and are a natural source of iodine.

Iodine is responsible for the production of all your hormones. Most of the body's iodine is found in the thyroid gland. These hormones control the body's metabolism.

Iodine helps to maintain normal thyroid function and collagen helps to make the skin more moist and elastic, the hair becomes stronger and more lustrous, and the nails become stronger and have increased growth.
Hero Ingredients
Marine micro hydrolysed collagen from wild-caught fish (cod - Gadus morhua), Berry powder from wild picked whole Nordic blueberries (Vaccinium myrtillus), aronia (Aronia melanocarpa), black currants (Ribes nigrum) and algae (Ascophyllum nodosum).

About the brand
Nordic Superfood by Myrberg helps you to live a sustainable and healthier life in a Nordic Way by developing multifunctional health and beauty products with documented effects from the wild Nordic nature.

Nordic Superfood was founded by Linda Myrberg, who is an acupuncturist and holistic spa expert with over 25 years of experience and broad expertise in health, with roots in both Western and Eastern teachings. Myrberg has appeared as a TV coach, health expert, and writer for various magazines, and gives lectures with presentations such as "Nordic Super Health," "Botox or Broccoli," "Holistic Beauty from the Inside Out," and more.
Useful information about your shipping details
Show how much time customers have for testing your products
Let your customers know about local pickup