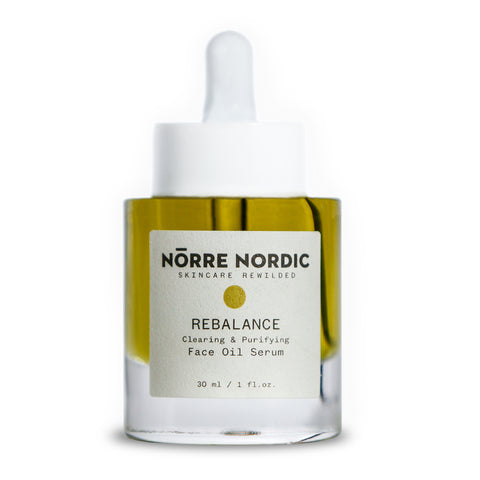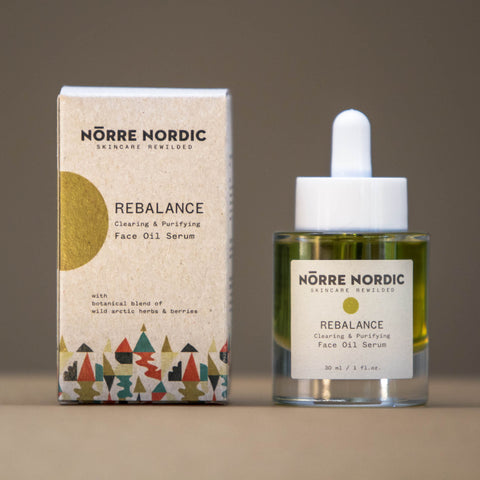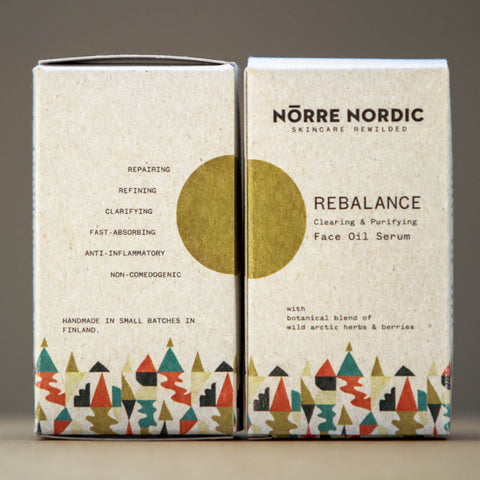 Rebalance facial oil
Nörre Nordic
Show more
These are the type of products that we would all love to have the knowledge and resources to produce ourselves, following ancient knowledge and methods, yet very few have such expertise and 'nature's medicine cabinet' on their doorstep to be able to do so. Norre Nordic have created them for you.
Rebalance Clearing & Purifying Face Oil Serum is a luxurious face oil formulated with carefully chosen, wildcrafted blend of Arctic wild herbs high in compounds fighting against impurities.
100% natural, vegan & cruelty-free

For oily, acne-prone and combination skin

Aroma : Mild forestry scent comes from natural & organic fir needle and yarrow essential oils.
Ingredients : *Spiraea Ulmaria (Wild Meadowsweet) Flower Extract / *Epilobium Angustifolium (Wild Fireweed) Flower Extract / *Betula Alba (Wild Birch Leaf) Leaf Extract / *Urtica Dioica (Wild Nettle) Extract in *Helianthus Annuus (Sunflower) Seed Oil, Squalane (Olive), *Rosa Canina (Rosehip) Seed Oil, Ribus Nigrum (Blackcurrant) Seed Oil, *Rubus Idaeus (Raspberry) Seed Oil, Tocopherol (Vitamin E), Rosmarinus Officinalis (Rosemary) Leaf Extract, Abies Sibirica (Fir Needle) Oil, *Achillea Millefolium (Yarrow) Oil, **Limonene *Wildcrafted or Certified Organic **Naturally occurring component in essential oil

30 ml / 1 fl.oz. - Lasts 3 to 6 months in daily use 
How to use
Apply after cleaning the skin, after the essence or toner, and following any face mask.

The benefits of these powerhouse plants will continue to work on the surface of the skin and within it's upper layers throughout the day. Apply to suit - morning and or/evening, finishing with a moisturising cream if required.
Key Benefits
Blended with non-comedogenic, high quality Arctic berry seed oils and squalane creating high-performance and result-driven skin balancing botanical facial oil serum targeted especially to acne-prone, oily and combination skin types to reduce & prevent breakouts, minimise pores and balance skin's natural oil production.
Hero Ingredients
With wild picked meadowsweet, fireweed, birch leaf & nettle blended with yarrow, rosehip, blackcurrant and raspberry seed oils.
These are infused in organic sunflower oil over the course of six weeks, these herbs gently release their powerful nutrients into this specialist formula.


About the brand
Norre Nordic are very special makers of the finest facial oils, gathering themselves many of the wild grown plants, infusing them in pure oils and then carefully blending the botanical extracts and potent essences into the most wonderful serums for the face.

In Arctic Finland, the most nutrient rich plants and herbs grow naturally in the wild. Every summer they roam the forests picking these precious ingredients, drying them gently and quickly thus preserving every precious nutrient they have to offer. They also have our own micro-farm where they organically grow Arctic medicinal plants for their products.
Useful information about your shipping details
Show how much time customers have for testing your products
Let your customers know about local pickup