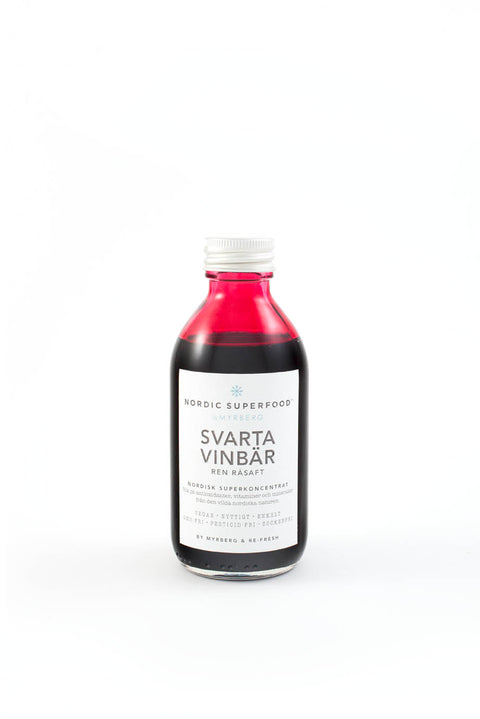 Raw juice concentrate : Blackcurrant
Nordic Superfoods
Show more
Super-concentrated black currant (svartavinbär)drink from Swedish black currants that is completely free of added sugar or other additives
Up north in the Nordic forests, the berries grow completely wild in an untouched environment. The combination of the long harsh winters and 24-hour sunlight during the summer fills the berry plants with an extra high content of antioxidants and vitamins.
WILD - VEGAN - RAW - NO SUGAR - NO ADDIVITES
195ml glass bottle

How to use
This product is perfectly suited as a meal drink with hot or cold water or sparkling water, in smoothies, in porridge, for drinks etc. Suggested dosage - 1 teaspoon to a glass = about 100 berries.

One part raw super concentrate is mixed with approx. 20 parts water (to taste). 1 teaspoon to 2 dl of water (as juice) or as a health shot.

Shelf life 1 year as unopened. Opened bottle should be used within 2 months and preferably stored in a refrigerator.
Key Benefits
Blackcurrants contain vitamins A, B3, C, E, K, the Omega 6 fatty acid GLA as well as potassium, calcium, phosphorus, magnesium, iron, selenium and plenty of flavonoids.

» Vitamin E helps to protect the cells against oxidative stress.
» Potassium contributes to normal nerve and muscle function and to maintaining normal blood pressure.
» Vitamin C contributes to the normal functioning of the immune system and protects cells against oxidative stress. Contributes to reducing fatigue, exhaustion and increases iron absorption. Contributes to normal collagen formation, which is important for the normal function of the blood vessels, skin, cartilage and bone structure.
» Fibre-rich food helps keep blood fat levels low and contributes to normal intestinal flora and function.
» Benzoic acid a natural preservative that is effective against yeast and fungi and some bacteria

Hero Ingredients
Super-concentrated blackcurrant drink from 100% Swedish blackcurrants, which is completely free from added sugar or other additives.

Super concentrate is characterised by that the whole berry's benefits; peel, pulp and seeds have been compressed and the water carefully removed, without heating, which gives a distinct flavour and aroma of each berry.
About the brand
Nordic Superfood by Myrberg helps you to live a sustainable and healthier life in a Nordic Way by developing multifunctional health and beauty products with documented effects from the wild Nordic nature.

Nordic Superfood was founded by Linda Myrberg, who is an acupuncturist and holistic spa expert with over 25 years of experience and broad expertise in health, with roots in both Western and Eastern teachings. Myrberg has appeared as a TV coach, health expert, and writer for various magazines, and gives lectures with presentations such as "Nordic Super Health," "Botox or Broccoli," "Holistic Beauty from the Inside Out," and more.
Useful information about your shipping details
Show how much time customers have for testing your products
Let your customers know about local pickup