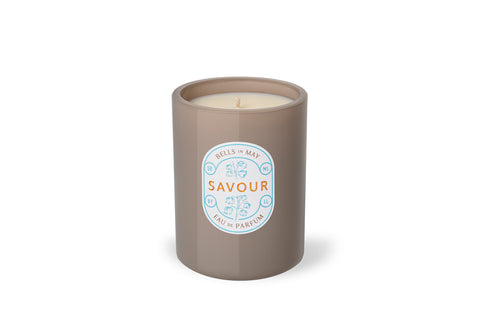 Scented candle : Bells in may
Savour Sweden
Show more
A first from the exclusive mast perfume maker that is Savour Sweden, this highest quality scented candle is a future classic, and will delight any recipient who will appreciate it's authentic natural scent of subtle Lily of the Valley flowers, in a woody setting.
300g in heavyweight glass jar, in a luxury box.
Total burn time : 70 hours 
Contains: 3,7-Dimethyl-1, 6-nonadien-3-ol, cis-p-Menthan-7-ol, Ophenethyl acetate, phenylethmylalcohol, Citronellol, Linalool, butyl phenyl methylpropional, indole, piperonal, p-tertButyldihydrocinnamaldehyde (Rep. 2), alpha-Pinene, Geranyl acetate

How to use
Trim wick before lighting, each time, for a clean and even burn. It is recommended that a maximium burn time of 4-5 hours for each period of use is the most to get the best from your candle. High fragrance throw, and fully ethically & sustainably produced.
Key Benefits
The scent captures the spring in full bloom with bright green shoots, the first mowing of the lawn and the prettiest of all flowers - lily of the valley - at its heart.

Hand-poured into a hand blown glass of the most stylish and Scandic-toned beige with luxurious lettering of light blue and bronze embossing, also made by hand. A candle of the finest quality.
Hero Ingredients
Scent notes : fresh cut grass, lily of the valley, coriander seed, rose damascene absolute, patchouli, mimosa absolute.

Vegan. Organic soya wax with selected botanical oils.

About the brand
Savour Sweden believe that no matter what we do - a footprint is left behind. Based on your choice of lifestyle, you will contribute a type of footprint you find reasonable and so with sustainability at heart this master perfumer has created scents inspired by her home and childhood in Stockholm

The brand is based in Sweden and production is done with partners in Grasse, France, and bearing in mind that small things also make a difference, the company only sends packages 3 times/week from their warehouse.

Useful information about your shipping details
Show how much time customers have for testing your products
Let your customers know about local pickup