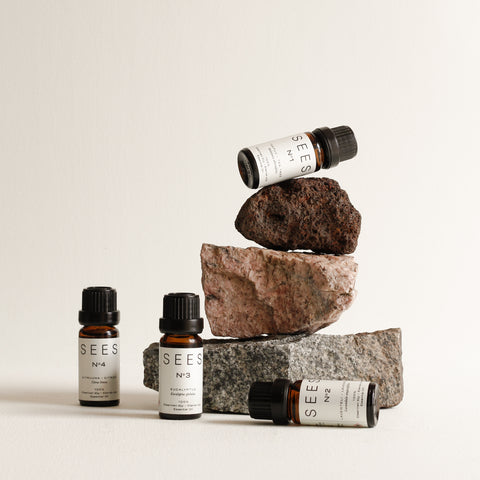 Essential oils
SEES Company
Show more
Perfect for aromatherapy, home spa, do-it-yourself skin care. Sustainable essential oil
superb quality
best to relax, focus and unwind
for external use only
use in the shower for home spa and aromatherapy
pure oil, no additives, no dubious methods

Multipurpose, natural and antiseptic SEES Essential oil No. 1 Tea Tree essential oil is nature's own medicine against bacteria, viruses and fungi.  It's warm, fresh and pleasant scent is a natural home freshener. Multipurpose tea tree oil should be found in every home.
SEES Essential oil No. 2 Lavender is a multipurpose mind calmer and all round supporter of many ailments such as headaches, cramps, nausea and insomnia.
SEES Essential oil No. 3 Eucalyptus is very fresh and cooling, thanks to which it relieves respiratory symptoms and congestion. 
SEES Essential oil No. 4 Lemon refresh the mind and stimulate the senses. 
Through the SEES fragrance stone or diffuser, the fresh scent of lemon brightens thoughts and improves work efficiency. 
Volume: 10ml


Made in Finland. 
How to use
Use: 2-3 drops of oil mixture on the scent. 3-5 drops in an electric diffuser mixed with about one deciliter of water. Or in sauna water.

If you want balance, freshness and clean room air in your home, add a few drops of lavender oil to a ceramic diffuser, such as a SEES scented stone or scented lantern. In addition, essential oils will wonderfully refreshes the bed linen while helping to calm down and promote sleep & wellbeing.

Key Benefits
The pure essential oils relax and calm the mind - like the forest does - and can be used according to each oils particular benefits and traditional applications.

Lemon oil is an antiseptic home freshener that can clean room air and disinfect wooden and metal surfaces. The antiseptic properties also help to care for and clean the skin and reduce the skin's excessive oil production when diluted in a base oil.

Packed with vitamins and antioxidants, the essential oil is known to support circulation and the immune system, as well as aid in digestion and cleansing. When you are on vacation from studying or working, you should place a scented stone on your desk and enjoy the stimulating effect of lemon on the blood circulation and thereby better concentration. In addition, the multi-purpose essential oil of lemon is suitable for aromatherapy, to fight congestion and colds, and to help with house cleaning. Lemon effectively removes dirt and oils.

The scent of eucalyptus is known to brighten thoughts and relax and calm the mind. This is why it is a popular essential oil for massage and aromatherapy, where its natural aromas waft around the room. Thanks to its antiseptic properties, it effectively disinfects room air and can be used to freshen a home, summer cottage, car or boat. Eucalyptus essential oil also works excellently in bath and spa water, triggering muscle tension and moisturizing the body when first mixed with a neutral skin oil. Effective and versatile eucalyptus is a natural home freshener and room air purifier.

Tea tree oil is said to help in situations that require concentration, such as when studying or working. Place a diffuser containing the fragrance on the desk and enjoy aromatherapy. Also try it to help with a flu, as the scent should refresh and strengthen the feeling. It has been used in Australia for centuries to treat, prevent and cure skin diseases, known to be an effective aid in the treatment of athlete's foot and nail fungus, cold sores, acne and warts. Tea tree essential oil also acts as an excellent insect repellant and relieves the itching of mosquito bites.

The wonderful scent of lavender is good for the mind, it has a calming effect and is known to lower blood pressure. It is said that people who work in lavender fields never have a headache. Lavender balances the fluctuations of the mind and thereby harmonizes the whole body.

Hero Ingredients
100% pure, genuine and undiluted oils.

Lemon essential oil is produced using cold pressing technology from the peel of the fruit. The fresh and mild citrus scent helps to cheer up everyday life, especially in the midst of chaos.

Tea tree, or Melaleuca alternifolia, is from the tree that originates in Australia but now used worldwide for its skincare & health benefits.

Lavender essential oil is steam-distilled from the flowering tops of the plant and its scent is fresh and fruity.


About the brand
SEES Company has created a natural Finnish home care and beauty collection inspired by nature and the strengthening, positive effects of Finland's forests. The products promote increased well-being for body and soul through the connection to nature.
Useful information about your shipping details
Show how much time customers have for testing your products
Let your customers know about local pickup