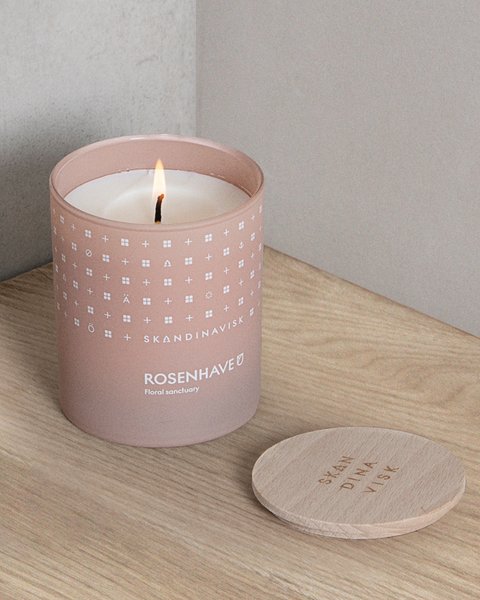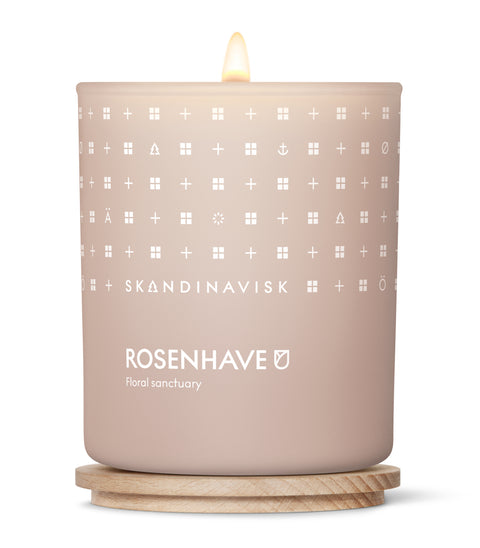 Scented candle : Rosenhave
Skandinavisk
Show more
Hygge ['hygə] Danish for 'cozy '. A word without direct translation but with infinite meaning, and a reflection of the Scandinavian art of creating intimacy, community and coziness in the smallest everyday moments.
Choice of sizes :
200g; 50 hours burning time. Diameter: 7.9 cm, Height: 9.9 cm
65g; 20 hours burning time. Diameter: 5.1 cm, Height: 6.5 cm
How to use
Trim wick before use, each time, for a clean & even burn. Follow enclosed safety instructions for candles use.
200g 50 hours total burning time.
65g 20 hours total burning time.

Key Benefits
Create a natural Scandinavian home with these organic certified, vegan candles that capture the scents and style of the Nordic lands.
Hero Ingredients
Scent notes: Alba rose and elderberry, geranium and black currant buds.

A perfume and Swedish rapeseed wax mixture in coloured glass with a pure cotton wick and engraved beech lid; partially recycled and dishwasher safe glass made in the EU with metal-free watercolours. FSC-certified beech wood cover from managed European forests. FSC-certified packaging card from managed Swedish forests with natural dyes
About the brand
Living Scandinavian is not just which part of the world you come from, it's also how you think, how you treat others and the nature that surrounds you, and what you treasure. Skandinavisk believe a more Scandinavian approach to life offers a blueprint for a better future in a world that's forgetting how to listen to quieter voices.
Useful information about your shipping details
Show how much time customers have for testing your products
Let your customers know about local pickup