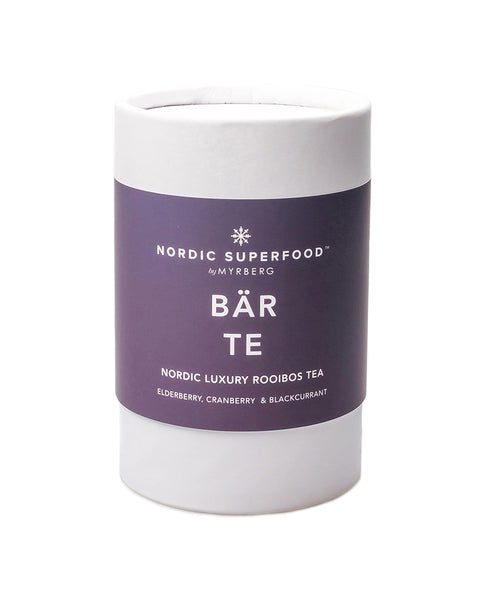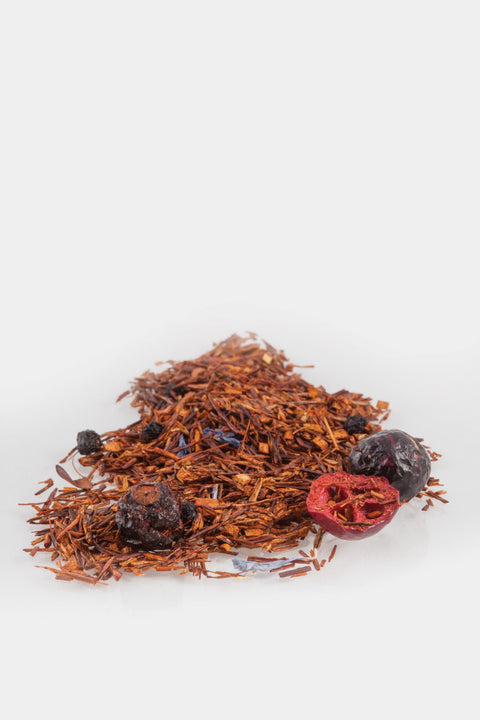 Superfood tea : BÄR
Nordic Superfoods
Show more
Nordic Superfoods Berry TEA - Elderberries, Black Currants & Cranberries.

Fruity and luxurious berry tea based on rooibos with Nordic elderberries, blackcurrants and cranberries.
Rooibos is naturally caffeine-free and is known for its health-promoting properties.
Contains: Rooibos, Natural Aroma, Elderberry, Black Currant, Cornflower, Cranberry.
Loose tea. 80g weight, in recyclable and lightweight luxury cardboard tube.
How to use
Boil with fresh water, let steep for 5-10 minutes or to taste. Can be cold brewed overnight, served with lemon slices, fresh herbs and plenty of ice.

Boost your tea with 1 teaspoon of Nordic Superfood BLUE (blueberry, chokeberry, black currant) and/or RED (lingonberry, red currant, cranberry) for optimal anti-oxidant effect. Leave for 5-10 min.
Key Benefits
Vitamin C contributes to the normal function of the immune system and protects cells against oxidative stress. Contributes to normal collagen production that is important for the blood vessels, the normal functioning of the skin, cartilage and bone structure.

Naturally caffeine free.
Hero Ingredients
Rooibos, Natural Aroma, Elderberry, Black Currant, Cornflower, Cranberry.

High fibre/ No added sugar/ No Additives/ Gluten-free/ Made from whole berries/ Raw food
About the brand
Nordic Superfood by Myrberg helps you to live a sustainable and healthier life in a Nordic Way by developing multifunctional health and beauty products with documented effects from the wild Nordic nature.

Nordic Superfood was founded by Linda Myrberg, who is an acupuncturist and holistic spa expert with over 25 years of experience and broad expertise in health, with roots in both Western and Eastern teachings. Myrberg has appeared as a TV coach, health expert, and writer for various magazines, and gives lectures with presentations such as "Nordic Super Health," "Botox or Broccoli," "Holistic Beauty from the Inside Out," and more.
Useful information about your shipping details
Show how much time customers have for testing your products
Let your customers know about local pickup