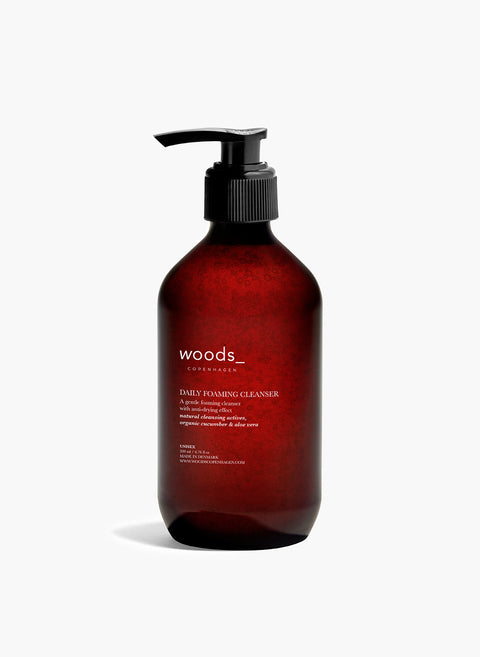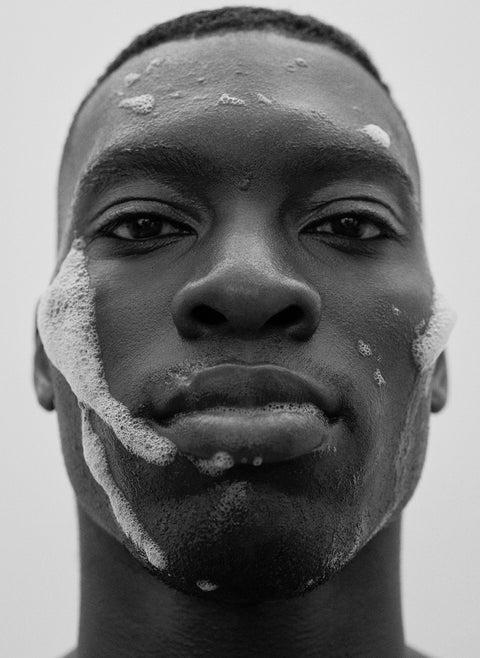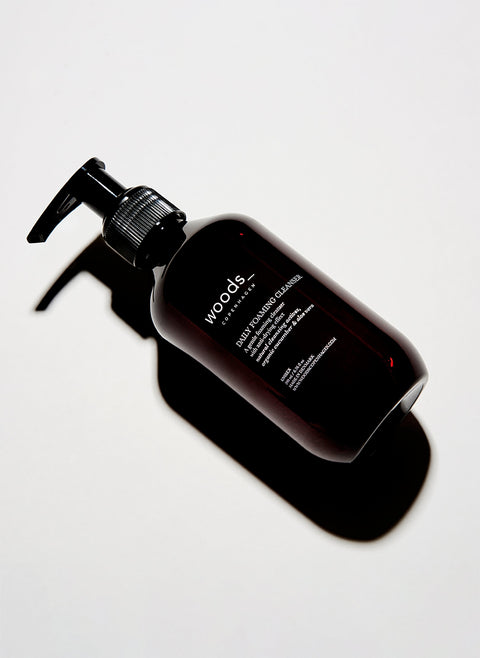 Daily foaming cleanser
Woods Copenhagen
Show more
A gentle, daily foaming cleanser, in good-looking modern design which suits both men & women.  
 200 ml pump bottle.
For all skin types.
Ingredients : Aloe Barbadensis Leaf Water*, Aqua**, Cucumis Sativus Fruit Water*, Glycerin*, Disodium Laureth Sulfosuccinate**, Acrylates Copolymer, Sodium Coco Sulfate**, Lauryl Glucoside**, Sodium Cocoyl Glutamate**, Caprylyl/Capryl Glucoside**, Xanthan Gum**, C12-15 Pareth-12, Sodium Benzoate, Potassium Sorbate, Caprylyl Glycol, Citric Acid, Phenoxyethanol, Alcohol, Sodium Hydroxide.

Organic*: 73%, Natural**: 90% 
How to use
Apply to damp skin and massage gently. Rinse off. Be extra careful in areas prone to clogged pores, such as the nose and chin. And don't forget to clean often-overlooked areas like your hairline and along your jawline.

Where: All over the face and neck (it's gentle and eye-safe).

When: AM and PM.

Good to know: Clean, don't remove! Gentle cleansing actives are key to maintaining a healthy skin barrier. The use of harsh soaps breaks down the skin's natural defenses, leading to redness, irritation and breakouts.
Key Benefits
A gentle, daily foaming cleanser that is uniquely and carefully formulated with 100% natural cleansing actives to effectively cleanse the skin without stripping it of the natural oils that prevent breakouts and the feeling of tightness, dryness and irritation.

Fragrance free. pH value: 6.3-6.7
Unisex & Vegan.
Hero Ingredients
Natural ingredients such as aloe vera soothe and protect, while cucumber extract provides a cooling and energising finish that leaves skin clean, protected and refreshed.

Enriched with arctic spring water from northern Greenland - untouched by man, rich in oxygen, low in minerals and with water's ability to allow the ingredients to be absorbed more efficiently into the skin.
About the brand
Formulated by Scandinavian experts, Woods Copenhagen products are highly active and science backed - to deeply penetrate, protect, and effectively boots healthy processes.
Woods' approach to beauty and health is holistic and minimalistic - less is definitely more - and they aim to strengthen and protect skin's natural defence. Their belief is that ingredients should be pure, natural and organic and, ultimately, they should work.
Useful information about your shipping details
Show how much time customers have for testing your products
Let your customers know about local pickup