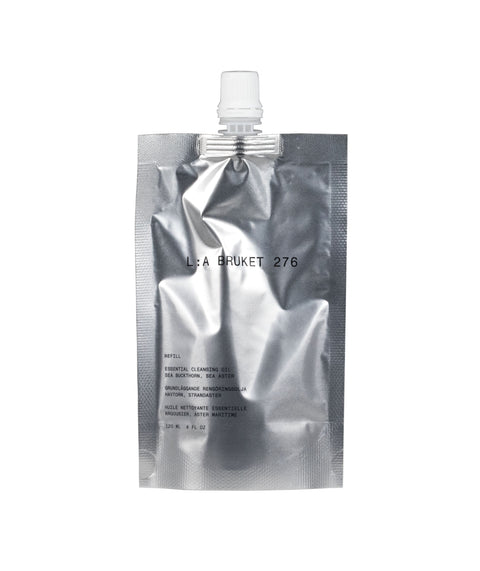 276 Essential cleansing oil refill
L:A Bruket
Show more
Of 100% natural origin, the 276 Essential cleansing oil instantly dissolves makeup – including waterproof formulas – and removes excess sebum while respecting the skin barrier. Skin is clean, soothed, replenished. For dryness, dull complexion.
This new pouch is designed to refill the glass bottles, part of the brand's sustainable approach to reduce our environmental impact.
Start with the 276 Essential cleansing oil to dissolve makeup and continue with the 277 Mild Cleansing Gel to remove toxins, sweat and pollution particles.
Ingredients : Communis Seed Oil*, Persea Gratissima Oil*, Polyglyceryl-10 Laurate, Parfum, Hippophae Rhamnoides Fruit Extract*, Cedrus Atlantica Bark Oil, Juniperus Communis Fruit Oil, Lavandula Angustifolia Oil*, Glycine Soja Oil, Aster Tripolium Extract, Linalool, Tocopherol, Beta-Sitosterol, Squalene, Rosmarinus Officinalis Leaf Extract*. *From organic agriculture
120ml pouch.

Made in Sweden.
How to use
How to Use : The application protocol by Jeanne Casimir, facialiste.
Warm the oil in the palm of your hands and massage onto dry skin, over the face, neck and eyes to remove impurities and makeup.
The oil becomes slightly milky and emulsifies with warm water. Rinse thoroughly and dry gently.

For those with very dry skin and not wearing makeup, the 276 Essential Cleansing Oil can be used as a second step in the double cleansing routine. Lead instead with the L:A Bruket 277 Cleansing Gel. Apply as per above but instead of rinsing off with water, gently wipe the face with a clean, damp towel.
Key Benefits
Cleans the skin of dirt, make up, grease and pollution whilst preventing dryness, irritation and redness.

This new pouch is designed to refill the glass bottles, part of the brand's sustainable approach to reduce our environmental impact.
Gender neutral.

COSMOS certified, made in Sweden, vegan, dermatologically tested and gender-neutral.
Hero Ingredients
Sunflower, sweet almond and avocado oils gently and efficiently dissolve makeup from the face, eyes and lips, while castor oil revives the skin and strengthens the lashes.
These vegetable oils are blended with sea buckthorn pulp extract to replenish the skin.
Sea aster, a coastal flower, improves the evenness of the complexion by protecting the vascular micro-capillaries, preventing inflammation, dryness and redness, and soothing lavender lifts the spirits and ground the senses with the nature.
About the brand
COSMOS certified, produced on Sweden's rugged West coast where nature flows from crashing seas, drying winds and almost endless summer days, incorporating the best of natural botanics and the latest science collaborations.
L:A Bruket
In Sweden, nature isn't something you visit. It comes to you whenever you step outside. Sun, wind, rock and ice; salt, sand, mud and water. Elements in a tangle of continuous change. The harsh coastal conditions can weather our skin and hair, but rather than hiding from nature, here we turn to it for inspiration and answers. 
L:A Bruket have developed natural and organic skincare made on the west coast of Sweden with a simple philosophy: innovation driven by nature.


Their coastal home is Varberg, which has over 200 years of spa culture. Backed by this well-established natural skincare knowledge, L:A Bruket have been developing organic formulas that protect and nurture the skin and hair since 2008, applying a modern mindset to age-old sea therapy practices, such as seaweed bathing, to create innovative contemporary treatments that use sustainably sourced ingredients.
They are without compromise when it comes to ingredient purity, because research shows that our skin and hair respond to natural molecules most effectively.
The resulting products are defined by function and quality – made to be resilient in an unforgiving climate so that they can meet the demands of any situation.
And because a holistic approach to a wholesome lifestyle is truly what they stand for, they have created a home range of products to bring the scents of Scandinavian nature to your indoors. Created in the same philosophy of offering high quality products with the best possible ingredients, the home range brings nourishment and comfort, in a safe and sustainable way. All natural ingredients, Swedish grown rapeseed wax and with refillable candles in pouches, they are committed to making the your environment a better one. 


L:A Bruket have recently further developed their mission for ethical living to their new skincare line with a range that captures the essence of Swedish coastal living with formulas that include algae, Nordic cotton, Sea Aster and even water from the cold local waters, now with refillable travel kits and soft pouches in bulk sizes that ensure they truly deliver on their sustainability values.