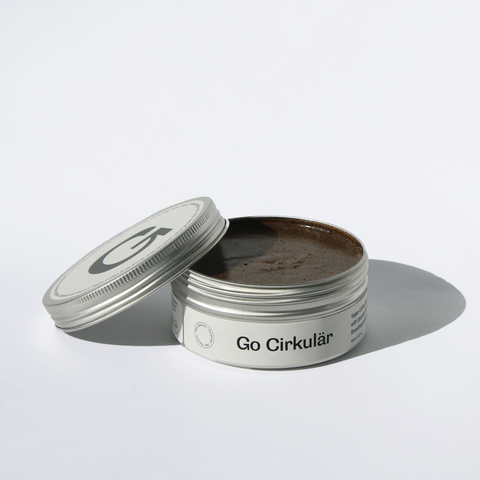 Body routine gift set
Go Cirkulär
Show more
 Buy all 3 Go Cirkulär body-conditioning products as a gift set and save on the price of individual items.
Plus you get all the benefits -
reduce cellulite
smooth skin
increased circulation
improved drainage and feeling in tired legs, shoulders and neck, or upper arms.
Add to that a wonderful glow, the uplifting scent and the positive effect of your own spa treatment at home, when it suits you.
Contains :
OIL BLEND in 100 ml glass bottle, made in Skåne, Sweden.
Simmondsia Chinensis (Jojoba) Seed Oil; Prunus Amygdalus Dulcis (Sweet Almond) Oil; Camelina Sativa Seed (Camelina) Oil; Prunus Armeniaca Kernel (Apricot) Oil; Coffea Arabica (Coffee Upcycled) extract; Citrus Limon Peel (Lemon Peel) Oil; Citrus Bergama (Bergamot) Oil, Boswellia Serrata (Frankincense), Juniperus Communis Fruit (Juniper) Oil, Tocopherol; Rosmarinus officinalis leaf extract (Rosmarin); Litsea cubeba fruit oil. Allergens: Linalool, Limonene and Citral.
SCRUB - 150ml Recycled aluminium tin. Product made in Skåne, Sweden
Coffee Arabica Seed Powder, Sucrose, Butyros permum parkiishea (Shea), Cocos Nucifera (Coconut) Oil, Sodium Chloride, Helianthus annuus seed oil, Simmondsia Chinensis (Jojoba) Seed Oil, Cinnamomun (Cinnamon) Powder, Elettaria (Cardamomun) Reticulata (Tangerine) Leaf Oil, Citrus Bergamia (Bergamott) Oil, Tocopherol (Vitamin E), Rosmarius Officinalis Leaf Extract and Helianthus Annuus Seed Oil (Rosemary), Citrus aurantifolia (Lime), Essential oils allergens Limonene, Linalol, neral and geranial.
How to use
Use as either a face or body scrub, made with recycled coffee grounds, shea butter, jojoba oil and vitamin E. Levelling and energising - perfect as an addition to your morning routine. Apply a small amount on the finger tips and massage over damp skin, wash off with warm water.

Finish with the oil for continued nourishment, energising the skin and circulation and complete hydration.

Key Benefits
Exfoliates, softens and moisturises the skin with its blend of oils, and will improve sluggish circulation through the caffeine extract of the up-cycled coffee grounds and effect of the stimulating massage routine.
95% organic ingredients
100% Vegan
100% natural
5% upcycled
Small batch production.
Hero Ingredients
An activating and antioxidant OIL BLEND for your body that provides essential fatty acids, vitamins and minerals, which makes your skin renewed & revitalised.

BODY or FACE SCRUB made with recycled coffee grounds, shea butter, jojoba oil and vitamin E, to exfoliate and invigorate.

About the brand
Go Cirkulär's business model and organizational structure is inspired by the circular economy and the three R's approaches: reuse, reduce, recycle.

At Go Cirkulär, they manufacture high-quality skin care products that are up-cycled, gender-neutral and 100% natural. They carefully manufacture the products in their lab in Malmö by using only ingredients such as organic cold-pressed oils, natural waxes and essential oils, avoiding unnecessary ingredients such as perfumes, synthetic preservatives or other chemicals that can adversely affect human health or ecosystems.
Useful information about your shipping details
Show how much time customers have for testing your products
Let your customers know about local pickup