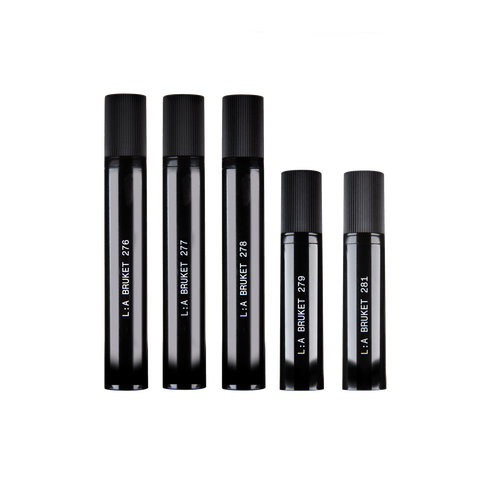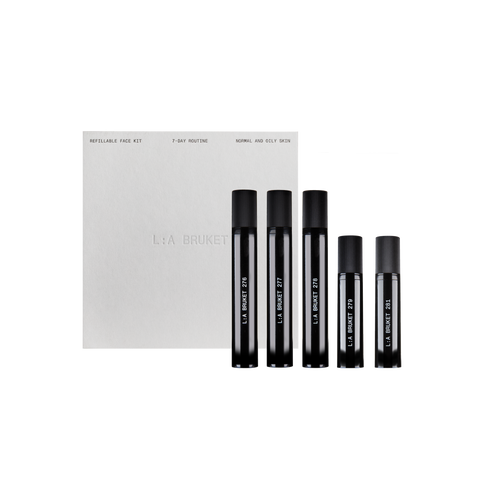 Essential Face Care Kit - normal / oily skin
L:A Bruket
Show more
A travel-friendly, 5-step facecare routine that can be refilled over and over again with our COSMOS certified formulas for healthy and radiant skin over the long term. 
The Normal / Dry Skin kit contains nomadic refillable products of the following: 
Essential Cleansing Oil 15ml- 100% natural

It instantly dissolves makeup while respecting the skin barrier, soothing and replenishing the skin.
Mild Cleansing Gel 15ml - 98.8% natural

This natural cleanser, formulated without sulphates, cleans in-depth, refines the skin's texture and tightens the pores without drying the skin. Naturally rich in salicylic acid.
Hydra-firming Sea Mist 15ml - 98.9% natural

Provides firmness, hydrates the skin and protects against environmental stressors and pollution. Giving you a fresh complexion, as if you've been caught in windy weather.
Replenishing Serum 10ml - 99% natural

Antioxidant shield, it firms, plumps, prevents the signs of aging and hydrates all skin types, especially those lacking elasticity, radiance and evenness. Contains two molecular weights of hyaluronic acid and vitamine C derivative. 
 Protective Fluid 10ml - 99% natural
Naturally lightweight cream to deeply moisturise, protect from the first signs of ageing and balance the skin by regulating shine.
Refillable packaging
100% COSMOS-natural certified
Vegan
Dermatologically tested
COSMOS certified, made in Sweden, vegan, dermatologically tested and gender-neutral.
How to use
1. When bottle contents are low, remove lid and unscrew the pump/spray top
2. Use a thin rod or metal straw to gently push the bottles inner plunger down as far as it will go
3. Clean bottle with soap and warm water, and leave it to dry
4. Refill bottle by pumping directly into the barrel from our standard size products.

This process can be repeated as many times as needed.

Use pipet gifted with the kit to refill the Regenerating Cream bottle.
Key Benefits
These 5 nomadic tubes are devised to join you on any trip, offering seven days of optimal skincare routine. Easily refilled using our larger bottles, they are a convenient and sustainable way to discover our skincare collection.

This 5-step routine is designed to work in-depth on skin's cell regeneration mechanisms with formula pairing Swedish nature and biotechnology, for healthy radiant skin with longterm results.

Innovative formulas using bioetch actives such as Algica®, the patented algae clinically proven to hydrate the skin, balance the complexion and protect against pollution.

Gender neutral.
Hero Ingredients
Innovative formulas using bioetch actives such as Algica®, the patented algae clinically proven to hydrate the skin, balance the complexion and protect against pollution. Plus other coastal botanicals such as Sea Aster, Moss Extract, Nordic Cotton, Sea lavender, Moss Extracts, Sea Buckthorn, Willow Bark, Birch Sugars plus other beneficial oils and extracts.
About the brand
COSMOS certified, produced on Sweden's rugged West coast where nature flows from crashing seas, drying winds and almost endless summer days, incorporating the best of natural botanics and latest science collaborations.
L:A Bruket
In Sweden, nature isn't something you visit. It comes to you whenever you step outside. Sun, wind, rock and ice; salt, sand, mud and water. Elements in a tangle of continuous change. The harsh coastal conditions can weather our skin and hair, but rather than hiding from nature, here we turn to it for inspiration and answers. 
L:A Bruket have developed natural and organic skincare made on the west coast of Sweden with a simple philosophy: innovation driven by nature.


Their coastal home is Varberg, which has over 200 years of spa culture. Backed by this well-established natural skincare knowledge, L:A Bruket have been developing organic formulas that protect and nurture the skin and hair since 2008, applying a modern mindset to age-old sea therapy practices, such as seaweed bathing, to create innovative contemporary treatments that use sustainably sourced ingredients.
They are without compromise when it comes to ingredient purity, because research shows that our skin and hair respond to natural molecules most effectively.
The resulting products are defined by function and quality – made to be resilient in an unforgiving climate so that they can meet the demands of any situation.
And because a holistic approach to a wholesome lifestyle is truly what they stand for, they have created a home range of products to bring the scents of Scandinavian nature to your indoors. Created in the same philosophy of offering high quality products with the best possible ingredients, the home range brings nourishment and comfort, in a safe and sustainable way. All natural ingredients, Swedish grown rapeseed wax and with refillable candles in pouches, they are committed to making the your environment a better one. 


L:A Bruket have recently further developed their mission for ethical living to their new skincare line with a range that captures the essence of Swedish coastal living with formulas that include algae, Nordic cotton, Sea Aster and even water from the cold local waters, now with refillable travel kits and soft pouches in bulk sizes that ensure they truly deliver on their sustainability values.