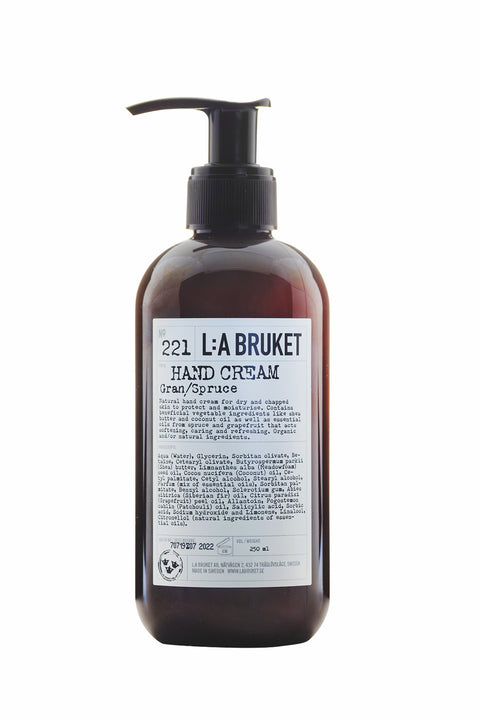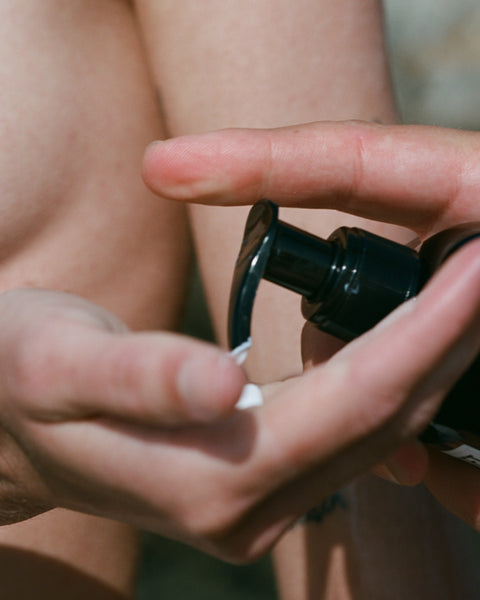 Hand cream pump bottle : Spruce
L:A Bruket
Show more
Easy to use and good looking pump bottle, to keep your hand cream where you need it - beside the sink, the bed or even at your place of work. Maintain your hands and nails in good condition all day.
Spruce - Rich in antioxidants and fatty-acids, it brings a rejuvenating effect and anti-ageing properties to the hands, even reducing the appearance of dark spots. Deeply hydrating and nourishing, it forms a protective layer over the skin, whilst also helping skin to retain moisture. It can soothe irritated and chapped hands, boosts collagen production as well as elasticity of the skin. The grapefruit, spruce and patchouli essential oils bring an energising scent that also aids in relieving stress.
L:a Bruket will pledge 5% of net worldwide sales across our full Spruce product line to Naturarvet, a collection foundation with the objective of acquiring old-growth forest in order to contribute to the preservation of biodiversity.
Organic and/or natural ingredients.
240ml plastic pump bottle.
Made in Sweden
How to use
Use preferably after washing hands with L:a Bruket solid or liquid soaps or when needed. Can be used daily. Apply a small amount on to the back of the hands and thereafter massage hands and cuticles with the cream.
Key Benefits
A deeply nourishing and rejuvenating hand cream of Coconut oil, Meadowfoam oil & Shea butter, with with natural plant extracts of Grapefruit and Spruce essential oils.
Hero Ingredients
Organic & natural ingredients, with a combination of antioxidant rich plant oils, fatty acids and pure fragrances.
About the brand
Natural and organic skin care, body & spa products plus sustainable home fragrance collection, from Sweden's West Coast. L:A Bruket's products are formulated with the philosophy that there is no need for chemicals to deliver on effective and desirable items.
L:A Bruket
In Sweden, nature isn't something you visit. It comes to you whenever you step outside. Sun, wind, rock and ice; salt, sand, mud and water. Elements in a tangle of continuous change. The harsh coastal conditions can weather our skin and hair, but rather than hiding from nature, here we turn to it for inspiration and answers. 
L:A Bruket have developed natural and organic skincare made on the west coast of Sweden with a simple philosophy: innovation driven by nature.


Their coastal home is Varberg, which has over 200 years of spa culture. Backed by this well-established natural skincare knowledge, L:A Bruket have been developing organic formulas that protect and nurture the skin and hair since 2008, applying a modern mindset to age-old sea therapy practices, such as seaweed bathing, to create innovative contemporary treatments that use sustainably sourced ingredients.
They are without compromise when it comes to ingredient purity, because research shows that our skin and hair respond to natural molecules most effectively.
The resulting products are defined by function and quality – made to be resilient in an unforgiving climate so that they can meet the demands of any situation.
And because a holistic approach to a wholesome lifestyle is truly what they stand for, they have created a home range of products to bring the scents of Scandinavian nature to your indoors. Created in the same philosophy of offering high quality products with the best possible ingredients, the home range brings nourishment and comfort, in a safe and sustainable way. All natural ingredients, Swedish grown rapeseed wax and with refillable candles in pouches, they are committed to making the your environment a better one. 


L:A Bruket have recently further developed their mission for ethical living to their new skincare line with a range that captures the essence of Swedish coastal living with formulas that include algae, Nordic cotton, Sea Aster and even water from the cold local waters, now with refillable travel kits and soft pouches in bulk sizes that ensure they truly deliver on their sustainability values.