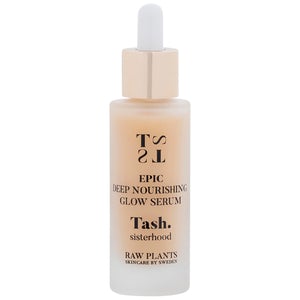 Epic deep nourishing glow serum
Tash. sisterhood
Show more
A truly fantastic Facial Serum for the most demanding conditions. For both day and night. For Normal and dry skin.
30ml glass bottle, with pipette. In outer carton. Swedish brand.
Ingredients: Aloe Barbadensis leaf extract *, Olea Europaea fruit extract *, capryl / capric Triglyceride, Glycerin, Coco-caprylate, Vitis Vinifera Seed Oil, Cocoglycerides, Nicotiana Tabacum Leaf Extract *, Argania Spinosa Kernel Extract, Punica Granatum Seed Oil, Crithmum Maritimum Extract, Betaine, Sodium Cocoyl Glutamate, Salicyl Alcoholic A, Soicyl Alcoholic A, algin, citric acid. * From certified organic farming.
How to use
Apply on clean skin before your moisturiser. We recommend that you combine with Epic Deep Nourishing Glow Moisturiser for an improved effect.
Key Benefits
The first benefit is immediate, and the deeper effects only take a few short weeks. This silky smooth concentrate of raw plants is incredible in its skin-enhancing properties. The renewal process is accelerated to support the natural repair process. At the same time, the skin is protected from the oxidative stress of free radicals, making it a serum for the most demanding conditions.
Hero Ingredients
Packed with antioxidants and vitamins, plus Raw Plants together with hyaluronic acid deeply moisturises and gives a refreshing tone to the skin.
About the brand
Tash. sisterhood and Raw Plants skincare were born out of a holistic mindset based on three core values, female empowerment, sustainability and an inside-out, outside-in approach to health and pure beauty.
The majority of their ingredients come from the same small-scale organic farm. Straight from their natural state, the plants are handled with the utmost care. This ensures the maximum potency from vibrant, active, alive ingredients. We call it Raw Plants Skincare.

The products are the essence of Tash. sisterhood's values translated into safe beauty with the highest degree of Organic Certification - Natrue Organic.
Useful information about your shipping details
Show how much time customers have for testing your products
Let your customers know about local pickup