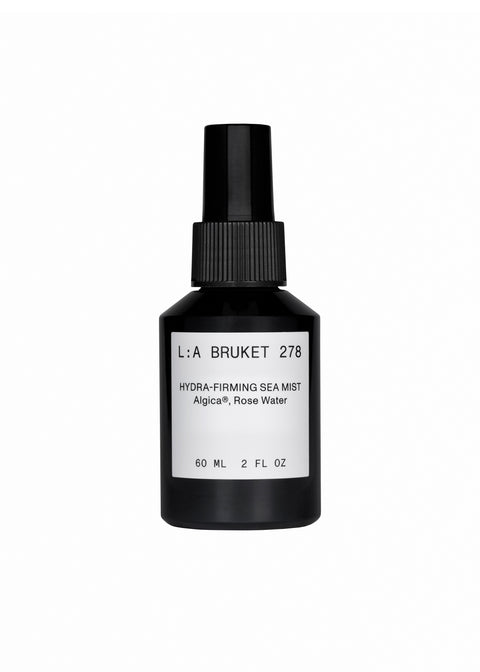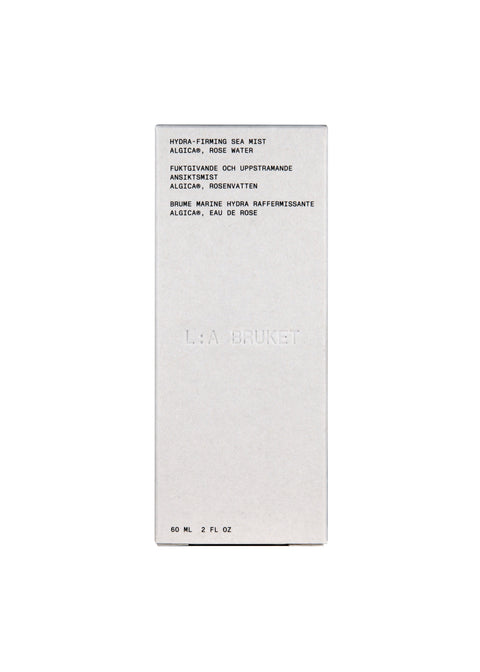 278 Hydra firming sea mist
L:A Bruket
Show more
Inspired by the wild roses that line the west coast of Sweden and sea spray bouncing off the rocks, the hydra-firming sea mist restructures, moisturises and protects all skin types, especially those in need of firmness, radiance and evenness. Giving you a fresh complexion, as if you've been caught in windy weather.
COSMOS certified, made in Sweden, vegan, dermatologically tested and gender-neutral. 
Ingredients : Aqua, Rosa Damascena Flower Water*, Sea Salt, Glycerin, Caprylyl/Capryl Glucoside, Xylitylglucoside, Anhydroxylitol, Xylitol, Glucose, Lactic Acid, Sodium Benzoate, Potassium Sorbate, Palmaria Palmata Extract*, Sodium Cocoyl Glutamate, Citric Acid, Glyceryl Caprate, Polyglyceryl-6 Oleate, Laminaria Digitata Powder, Sodium Surfactin, Phenethyl Alcohol, Sodium Carrageenan, Silica. *From organic agriculture
60ml glass bottle, with pump, in outer carton.
How to use
The application protocol by Jeanne Casimir, facialiste.

After cleansing, shake the bottle, extend your arm and spray twice on each side of the face. Gently tap to improve penetration of the active ingredients.

Being pre-hydrated, the skin is ready to receive the full skincare routine. The hydra-firming sea mist can also be used throughout the day, to refresh the complexion and give an extra boost of hydration to the skin.

Can be stored in the refrigerator for an even more refreshing effect.
Key Benefits
Soothing & refreshing, Hydrating, Protecting. Will eliminate fine lines more effectively than hyaluronic acid.
Hero Ingredients
Algica®, a micro-algae of the diatom family, is a unique biotechnological active ingredient from Sweden that acts as a powerful anti-pollution shield, provides hydration and effectively absorbs impurities. It is combined with a high-tech concentrate of red algae that is three times more effective than hyaluronic acid in tackling wrinkles caused by dehydration.

Organic rose hydrolat and sea salt adds a subtle firming, soothing effect.

A highly concentrated formula that prepares the skin for the rest of your facial routine and keeps it hydrated throughout the day, even when using makeup.
About the brand
Natural and organic skin care, body & spa products plus sustainable home fragrance collection, from Sweden's West Coast. L:A Bruket's products are formulated with the philosophy that there is no need for chemicals to deliver on effective and desirable items.

COSMOS certified, produced on Sweden's rugged West coast where nature flows from crashing seas, drying winds and almost endless summer days, incorporating the best of natural botanics and the latest science collaborations.

L:A Bruket
In Sweden, nature isn't something you visit. It comes to you whenever you step outside. Sun, wind, rock and ice; salt, sand, mud and water. Elements in a tangle of continuous change. The harsh coastal conditions can weather our skin and hair, but rather than hiding from nature, here we turn to it for inspiration and answers. 
L:A Bruket have developed natural and organic skincare made on the west coast of Sweden with a simple philosophy: innovation driven by nature.


Their coastal home is Varberg, which has over 200 years of spa culture. Backed by this well-established natural skincare knowledge, L:A Bruket have been developing organic formulas that protect and nurture the skin and hair since 2008, applying a modern mindset to age-old sea therapy practices, such as seaweed bathing, to create innovative contemporary treatments that use sustainably sourced ingredients.
They are without compromise when it comes to ingredient purity, because research shows that our skin and hair respond to natural molecules most effectively.
The resulting products are defined by function and quality – made to be resilient in an unforgiving climate so that they can meet the demands of any situation.
And because a holistic approach to a wholesome lifestyle is truly what they stand for, they have created a home range of products to bring the scents of Scandinavian nature to your indoors. Created in the same philosophy of offering high quality products with the best possible ingredients, the home range brings nourishment and comfort, in a safe and sustainable way. All natural ingredients, Swedish grown rapeseed wax and with refillable candles in pouches, they are committed to making the your environment a better one. 


L:A Bruket have recently further developed their mission for ethical living to their new skincare line with a range that captures the essence of Swedish coastal living with formulas that include algae, Nordic cotton, Sea Aster and even water from the cold local waters, now with refillable travel kits and soft pouches in bulk sizes that ensure they truly deliver on their sustainability values.