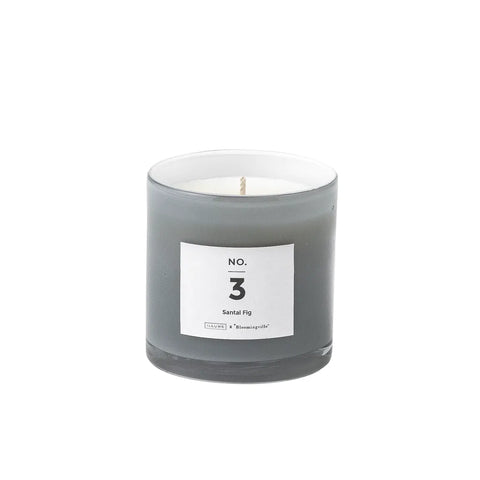 Scented candle : Santal fig
Bloomingville
Show more
Scented candle made of soy wax in a beautiful handmade colored glass container, blue on the outside and white on the inside, which is perfect when styled in a group with other home accessories in your favorite place in the house.
The fragrance is hand-picked and gives notes of fruity, floral and woody notes.
No 3 Santal Fig,
Sweet Santal Fig is topped with Persian galbanum, milky white flowers and creamy coconut, all mixed with light sandalwood and earthy amber.
The fusion of fruity, floral and woody notes is beautifully balanced by Persian galbanum; an intense green scent that accompanies each ingredient as they blend into each other to fill the room with lingering rich notes of fleshy fig and floral jasmine. The fragrance gently evaporates a feeling of tenderness, which is further enhanced and rounded off by deep and nurturing woody scents.
200 G. - 50 Hours - D8xH8 cm. Gift boxed.
How to use
Trim wick before use, each time, for a clean & even burn. Follow enclosed safety instructions for candles use.
Each candle of 50+ hours total burning time.

Key Benefits
Create a natural, stylish Scandinavian home with certified organic and vegan candles that capture the scents and style of Nordic living.
The added benefit that after the candle is used, wash off the label and you have a lovely bathroom accessories pot or tea light holder. Good for the environment and for the wallet!
Hero Ingredients
Scent family: Green, fruity.
Top notes: Bergamot (citrus fruit), lemon.
Heart notes: Fig tree leaf, fig fruit, jasmine, green.
Base notes: Sandalwood, amber, musk.
Swedish made plant wax

About the brand
Design led team from Denmark, Bloomingville create typically Nordic living goods at great prices. Made with quality.
Useful information about your shipping details
Show how much time customers have for testing your products
Let your customers know about local pickup