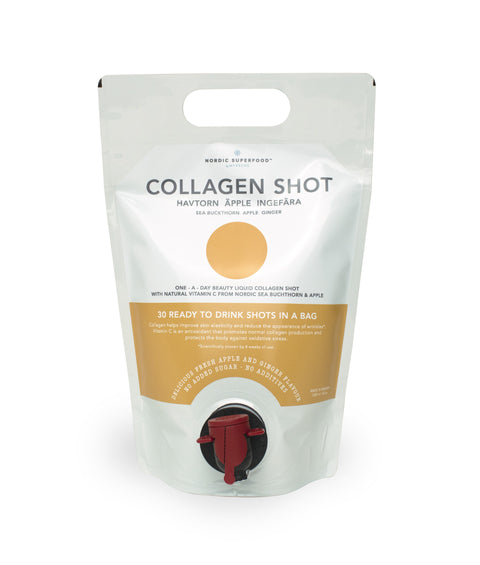 Collagen superfood shot
Nordic Superfoods
Show more
You get Nordic beauty from the inside out in this liquid and practical collagen shot filled with vitamin C-rich wild sea buckthorn, marine collagen, beneficial ginger and freshly pressed Swedish apples. An unbeatable combination from the world's purest nature.
COLLAGEN SHOT 100% NATURAL, WITH NO ADDED SUGAR OR ADDITIVES.
YOUR NEW BEAUTY ROUTINE
Free from added sugar, gluten, lactose or other additives.
2100ml pouch with tap..
How to use
Drink preferably chilled as a daily shot to give your skin and body the best possible effect. A shot of 4 cl (40 ml) contains 2 g of collagen.

To be kept in refrigerator. Shake before use.
Key Benefits
Marine Collagen has a documented effect on increased moisture and elasticity in the skin after 8 weeks, while improving the quality and growth of hair and nails. This collagen shot is the key to natural beauty from the inside out.

Sea buckthorn, the Nordic golden super berry, promotes both the well-being of the skin and your overall health. They contain very high levels of natural vitamin C which contributes to the normal functioning of the immune system, increased collagen production, counteracts oxidative stress and promotes cell renewal.

Ginger and Apples provide the healthy taste in our Collagen Shot and together they provide a healthy combination that promotes healthy stomach and intestinal health.
Hero Ingredients
Marine micro hydrolysed collagen from wild-caught fish (cod - Gadus morhua), Sea Buckthorn (havtorn) berries with added ginger and fresh pressed Swedish apples for a great taste, plus additional health & anti inflammatory benefits.

About the brand
Nordic Superfood by Myrberg helps you to live a sustainable and healthier life in a Nordic Way by developing multifunctional health and beauty products with documented effects from the wild Nordic nature.

Nordic Superfood was founded by Linda Myrberg, who is an acupuncturist and holistic spa expert with over 25 years of experience and broad expertise in health, with roots in both Western and Eastern teachings. Myrberg has appeared as a TV coach, health expert, and writer for various magazines, and gives lectures with presentations such as "Nordic Super Health," "Botox or Broccoli," "Holistic Beauty from the Inside Out," and more.
Useful information about your shipping details
Show how much time customers have for testing your products
Let your customers know about local pickup