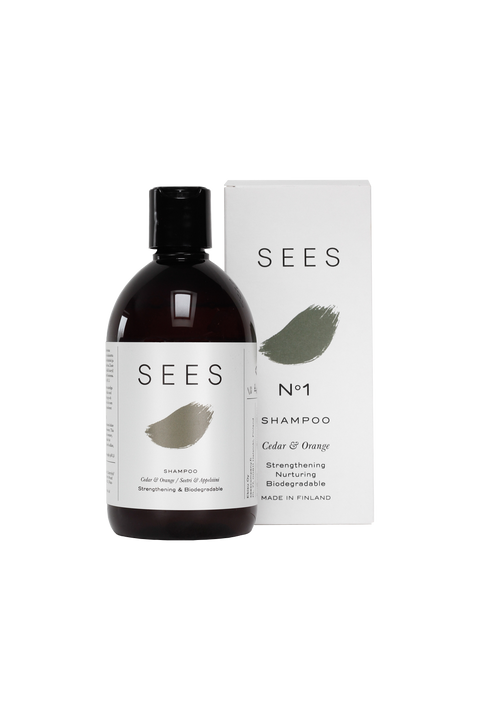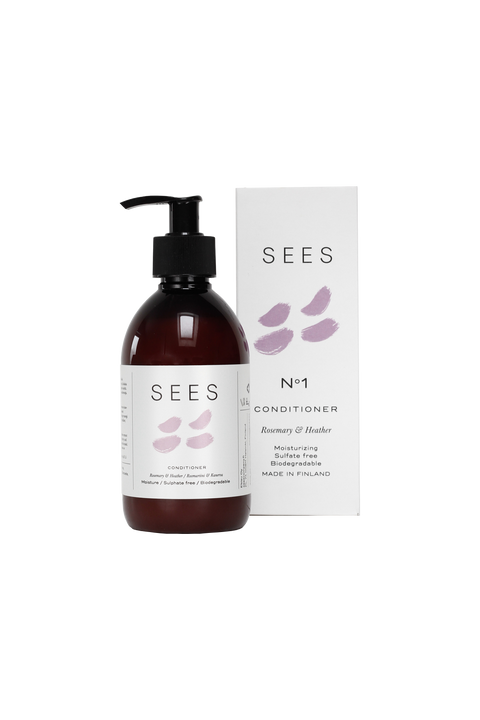 Gift set : Hair care
SEES Company
Show more
Natural ingredients from the Finnish forest add to the experience of using this all natural hair care, beautifully presented to make a stylish and considered gift. 
Strengthening and nourishing shampoo, for fresh, clean your hair - without silicones or parabens. Volume: 500ml
Moisturising and strengthening conditioner for your hair. Sulfate-free and silicone-free.
Made in Finland. Volume: 300ml
How to use
Massage the shampoo on damp hair and scalp, rinse. Follow with conditioner, if required.

The conditioner should be applied to clean wet hair, leave on for a while for added treatment and moisture boost, then rinse.

Key Benefits
This attractive, natural and biodegradable shampoo & conditioner is a more environmentally friendly choice and does not burden nature in the same way. So you can pamper your hair without worries, both at home and for the earth. The product is made without artificial fragrances and chemicals and is packaged in totally degradable packaging to make a super gift.
Hero Ingredients
A world of scents is created only by genuine essential oils that refresh and relax the mind during hair washing.

The main scents of the shampoo are fresh cedar, which is mixed with the sweet orange. Lavender gives a sophisticated aftertaste to the shampoo along with rosemary.

The fragrance notes in the conditioner are fresh and relaxing rosemary, which is mixed with moisturising heather. Genuine rosemary essential oil refreshes the hair wash.

These biodegradable hair products are suitable for all hair types. Made from very high quality ingredients and contains no extras. Good for hair, mind and nature.
About the brand
SEES Company has created a natural Finnish home care and beauty collection inspired by nature and the strengthening, positive effects of Finland's forests. The products promote increased well-being for body and soul through the connection to nature.
Useful information about your shipping details
Show how much time customers have for testing your products
Let your customers know about local pickup