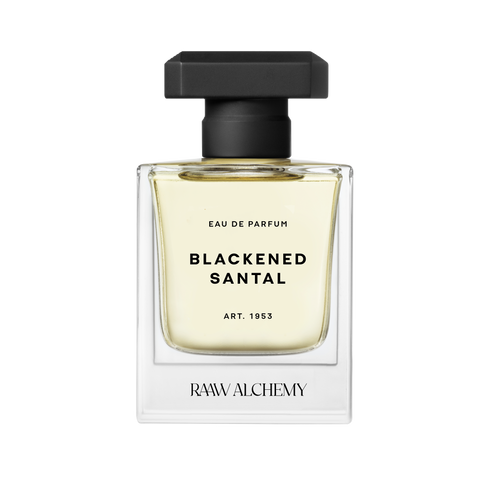 Eau de parfum : Blackened Santal
Raaw Alchemy
Show more
RAAW Alchemy's Eau de Parfum is blended to perfection, creating a layered depth that lingers on the skin. The best selling classic Blackened Santal is a gender neutral fragrance created with natural oils and organic cane-derived alcohol.
Size : 50 ml eau de parfum, glass bottle in luxury gift packaging
Ingredients: Alcohol Denat (certified organic alcohol derived from sugar cane), Parfum (fragrance), Aqua (water), D'Limonene, Geraniol, Linalool

**Certified Organic *Natural
How to use
Use on pulse points of wrist, neck or a light misting around the body.
Key Benefits
Sensual. Haunting. Intoxicating
Hero Ingredients
Notes: Sandalwood, Cedarwood, Olibanum, Cardamom, Iris and Vanilla.

A tempting blend of mysterious sandalwood and cedarwood, peppered with spicy cardamom intertwines with dark Vanilla. Lifted with a touch of violet and a delicate hint of iris.
About the brand
Raaw Alchemy is a sustainable Danish company producing fragrances & skincare that deliver natural beauty in a sustainable and luxurious combination, and with CO2 neutral production.
Useful information about your shipping details
Show how much time customers have for testing your products
Let your customers know about local pickup