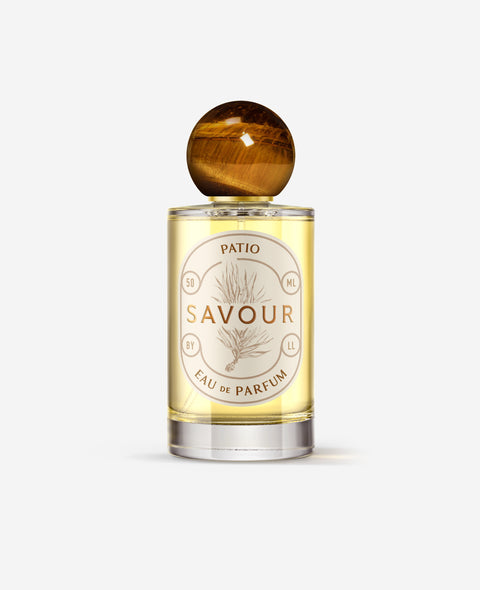 Eau de parfum : Patio
Savour Sweden
Show more
The fragrant melody reflects the thought of a family gathering on the patio, in the company of citrus fruits and pine trees. 
50ml spray bottle, in a luxury box.

Contains: Alcohol denat. ; Perfume (fragrance) ; Limonene; Linalool; benzyl salicylate; Hydroxycitronellal; Citronellol; Geraniol; Butylphenyl Methylpropional ; Citral
How to use
Use on pulse points of wrist, neck or a light misting around the body.
Key Benefits
It opens with an aquatic impression of petitgrain that lingers through the composition of pine, chamomile and musk, with bursts of bright citrus.

Hero Ingredients
Fragrance notes of : grapefruit, petitgrain, bitter orange, chamomile, beeswax, cedar, Siberian pine
About the brand
SAVOUR means to enjoy, which is a big part of the lifestyle of the founder as well as the perfumer. To be attentive, curious and present in both the small and the big.

In addition, as a human being, you are gifted with being flexible, which means that you adapt your behaviour and highlight what is important at the given time - Savour wish to be part of your changes in life and want to give you the tools to lift and strengthen your unique qualities and define your personal brand with the fragrances.

Savour believe that no matter what we do - a footprint is left behind. Based on your choice of lifestyle, you will contribute a type of footprint you find reasonable.
The brand is based in Sweden and production is done with partners in Grasse, France, and bearing in mind that small things also make a difference, the company only sends packages 3 times/week from their warehouse.
Useful information about your shipping details
Show how much time customers have for testing your products
Let your customers know about local pickup