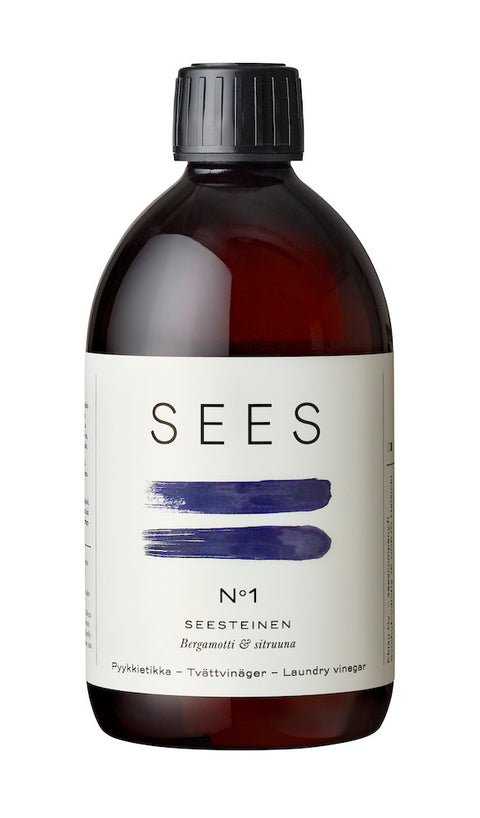 Laundry vinegar
SEES Company
Show more
SEES laundry vinegar is a high-quality fabric softener suitable for white and coloured laundry. 
500ml plastic recyclable bottle.
Ingredients: Spirit vinegar (acetic acid 9 – < 10%), Citrus aurantium bergamia fruit oil, Citrus limon Peel oil
Made in Finland
How to use
Shake before each use. Add 2-3 capfuls to the the fabric softener compartment of a washing machine.


Key Benefits
While most fabric softeners obscure unpleasant odors, laundry vinegar neutralizes it. It closes textile fibers maintaining the textile's colours bright and preventing dirt and dust from sticking.The scent of vinegar disappears completely as the textile dries, leaving only a clean, mild scent of essential oils. The scent of bergamot balances and brings serenity in the middle of everyday life. The fragrance blend is complemented by the essential oil of lemon, which refresh the mind. Laundry vinegar extends the life of the garment, removes static, improves the absorbency of towels and other soft textiles and even cleans the washing machine.
Hero Ingredients
Contains only organic vinegar and pure aromas of essential oils, in this variant No. 1 Serene the scent is Bergamot & Lemon so a wonderful fresh citrus. No water added.

The product is made from renewable and herbal ingredients. It is 100% biodegradable and vegan. The raw materials have not been tested in animal studies.
About the brand
SEES Company has created a natural Finnish home care and beauty collection inspired by nature and the strengthening, positive effects of Finland's forests. The products promote increased well-being for body and soul through the connection to nature.
Useful information about your shipping details
Show how much time customers have for testing your products
Let your customers know about local pickup