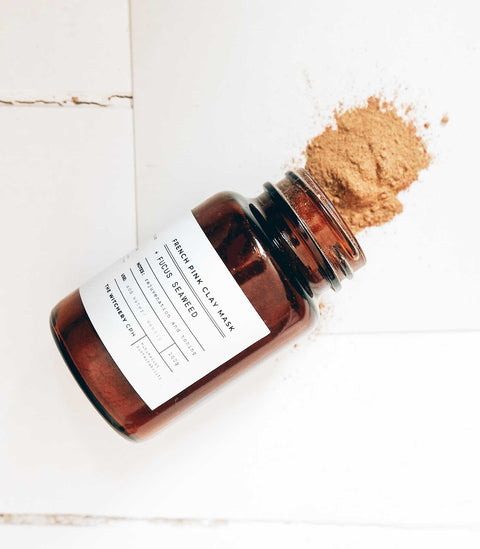 Pink clay mask with seaweed
The Witchery CPH
Show more
Pink clay mask with seaweed - sustainable, pure and incredibly nice.
A blend of the most luxurious French pink clay and fucus seaweed. Fucus seaweed improves skin elasticity, colour and thickness. A gentle mask, perfect for sensitive skin.
Packaging: a brown glass bottle + aluminum lid * Note - the current batch is about 70g of clay per jar. The label says 100g due to printing errors.
How to use
This French Argile clay is extremely fine. Mix a teaspoon of clay with a little water to make paste and leave it on the skin for up to 15 minutes. You can also use facial oil if your skin is particularly dry, or as an extra. Rinse it with warm water, pat the skin dry.

We recommend that you use a nice hydrosol to finish with and your favourite face oil for the whole beauty experience.
Key Benefits
The gentle exfoliating effect helps the skin to remove dead skin cells, and helps to heal and refresh the skin.

Fucus Seaweed has been shown to support the skin's elasticity and will leave the skin soft and feeling clean.

Clay is a natural exfoliant that gently detoxifies and cleanses the skin.
Hero Ingredients
A blend of the most luxurious French pink clay and fucus seaweed, which will connect you to the ocean and bring the number of benefits that both algae and natural clay have to your skincare routines.

About the brand
The Witchery CPH, a company that is passionate about the highest quality raw materials, from sustainable sources such as small EU farms, all organic, all pressed and extracted with the best methods to ensure all the powerful essences and antioxidants from the plants are retained.
Useful information about your shipping details
Show how much time customers have for testing your products
Let your customers know about local pickup