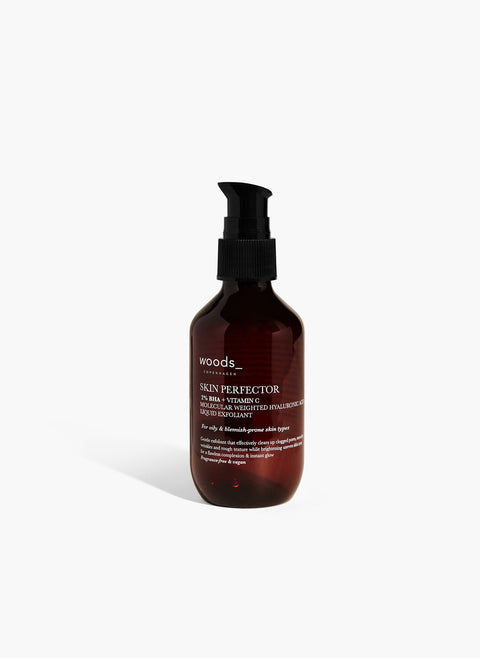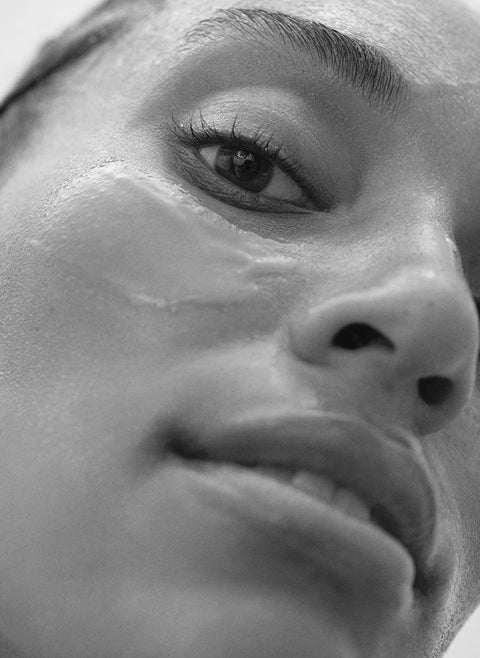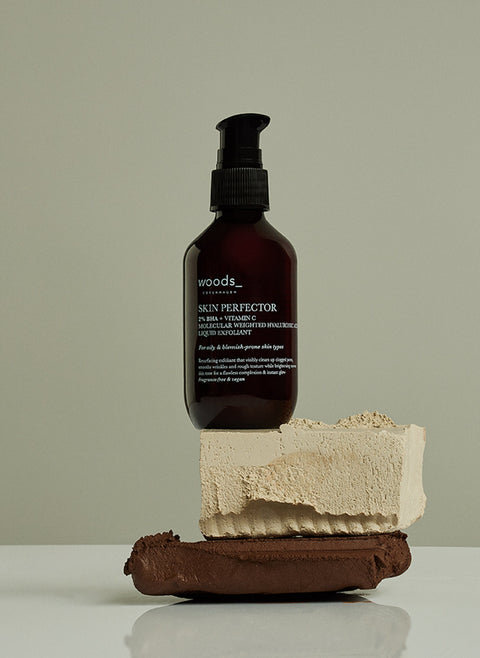 Skin perfector 2% BHA
Woods Copenhagen
Show more
Regenerating leave-on exfoliant that visibly unclogs clogged pores, smoothes wrinkles and rough texture while brightening uneven skin tone for a flawless complexion and instant radiance.
 100 ml pump bottle.
Aloe Barbadensis Leaf Extract*, Aqua**, Pentylene Glycol**, Ascorbyl Glucoside**, Salicylic Acid, Sodium Hydroxide, Lactic Acid**, Sodium Hyaluronate*, Glycerin**, Salix Purpurea Bark Extract*.

Organic*: 71%, Natural**: 96%
How to use
Apply gently with fingers after cleansing. Do not rinse.

Start slowly. Apply every other day and note how your skin reacts. Then use daily depending on skin type and sensitivity.

Key Benefits
For oily and blemish-prone skin types

Fragrance free. pH value: 3.90. Vegan.
Hero Ingredients
Infused with a concentrated blend of 2% BHA (salicylic acid), lactic acid and natural willow bark extract, this liquid exfoliator works deep into the skin's layers to unclog clogged pores, regulate skin's sebum production, boost skin's natural cell turnover process. while preventing future outbreaks from forming.

The antioxidant vitamin C visibly helps reduce the appearance of dark spots, while the concentration of low and high molecular weight hyaluronic acid instantly hydrates the skin's surface and deeper skin layers to smooth fine lines, wrinkles and overall skin texture.

About the brand
Formulated by Scandinavian experts, Woods Copenhagen products are highly active and science backed - to deeply penetrate, protect, and effectively boots healthy processes.
Woods' approach to beauty and health is holistic and minimalistic - less is definitely more - and they aim to strengthen and protect skin's natural defence. Their belief is that ingredients should be pure, natural and organic and, ultimately, they should work.
Useful information about your shipping details
Show how much time customers have for testing your products
Let your customers know about local pickup