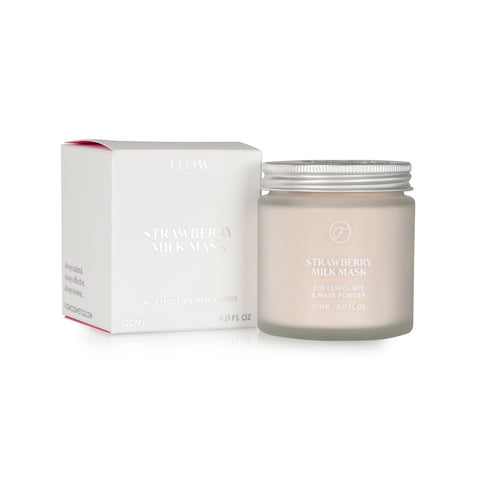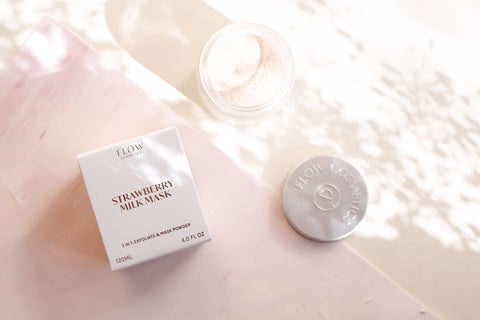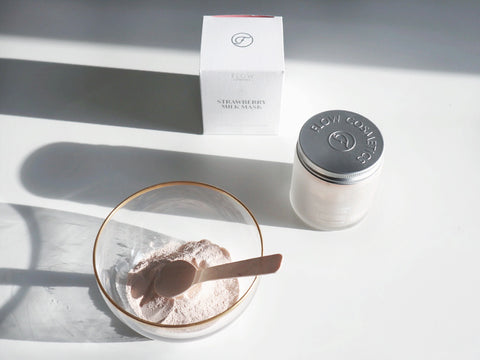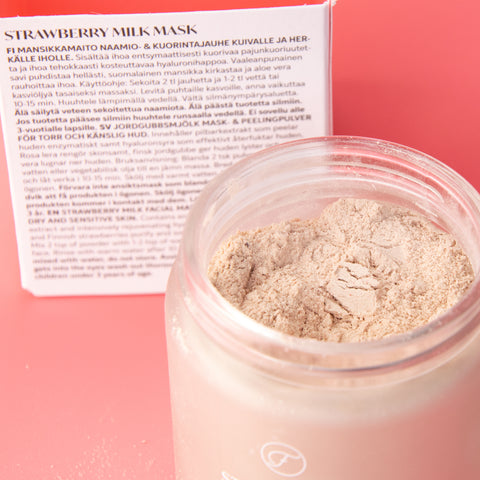 Strawberry milk mask
Flow Cosmetics
Show more
Strawberry Milk Mask is a 2-in-1 face mask & peeling for dry and sensitive skin
Tired and dry skin? This lightening face mask cleanses, soothes & moisturises.
The active ingredients are enzymatically exfoliating white willow bark extract and intensely moisturising hyaluronic acid.
120 ml jar, in outer carton.
The product is packaged in a recyclable glass jar with a recyclable aluminum lid. The outer packaging is recyclable cardboard. These high-quality glass jars can be reused e.g. for storage of small items or as a candle holder.
How to use
Apply 2 teaspoons powder and 1-2 teaspoons water, mix until smooth. Apply on cleansed face, leave on for about 10 minutes.

Rinse with warm water. If you prefer, you can use e.g. Rose Floral Water instead of tap water, or you can add a little vegetable oil, a drop of essential oil or herbs, honey, etc. to match your skin type.

Avoid the eye area, the mask may feel a little tight. Massage over the skin as you wash it away to give an exfoliating effect.
Key Benefits
This lightening face mask cleanses, soothes, moisturises and gives the skin a youthful and glowing look. With regular use, the mask improves the skin's moisture balance and firmness. Immediately smoother skin.
Hero Ingredients
White Willow Bark Extract - a natural source of salicylates, enzymatically exfoliating, anti-inflammatory, antimicrobial and gentle, helps fight skin oil Hyaluronic acid - a powerful moisturiser, smoothes wrinkles and fine lines, promotes normal function of the skin barrier, improves skin barrier structure, shrinks the pores. Due to its small molecular size, hyaluronic acid can penetrate deeper into the skin tissue.

French pink clay - rich in minerals, gently cleansing, strengthens the capillaries (couperosa).

Arctic Strawberry - rich in vitamin C, brightens and rejuvenates the skin, improves collagen production, prevents inflammation, protects against environmental damage.

Aloe Vera - Moisturises, promotes skin healing, improves elasticity, softens. Coconut milk powder - emollient skin.
Rice powder - evens out skin tone, wrinkles and hyperpigmentation. Immediate brightening effect and porcelain skin

About the brand
Flow Cosmetics, founded in 2004, creates natural beauty care from the best and purest ingredients that nature has to offer. Made in small batches from the freshest ingredients available.

A small family business run by mother Riitta and daughter Suvi, Flow Cosmetics has grown from homemade lavender soaps to one of the most appreciated natural cosmetics companies in Finland. Strong ethics, thorough research and a passion for sustainable production ensure the highest quality in all Flow products.

A climate-neutral company. Flow is passionate about creating truly natural skin care products, putting heart and soul into creating caring facial products that are formulated with organic vegetable oils and vitamin-rich berries - the purest Scandinavian superfood - all grown in Finland during the endless summer sun.
Useful information about your shipping details
Show how much time customers have for testing your products
Let your customers know about local pickup