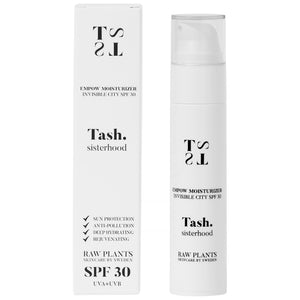 Empow city moisturiser SPF30
Tash. sisterhood
Show more
 A multi-talented Moisturiser for the face with SPF 30. For all skin types.
This is the impossible product that has been made possible. An SPF for the face, in our world, is so much more than protection against harmful radiation. Like the other Tash. sisterhood moisturisers, the Empow Moisturiser Invisible City SPF 30 has an age-defying effect. 
Empow Moisturiser Invisible City SPF 30 is formulated to suit all faces, even those with sensitive skin who have problems with traditional SPF products.
50ml recycled plastic bottle with pump. In outer carton. Swedish brand.
Ingredients: Aqua, Aloe Barbadensis leaf extract *, Capryl / Capric Triglyceride, Titanium dioxide, Olea Europaea fruit extract * Prunus Amygdalus Dulcis Oil *, Butyrospermum Parkii Butter *, Glycerin, Polyglyceryl-2 Dipolyhydroxystearate, Lavandula Coco-Custyl, Lavandula Cucolifolica Granatum Seed Oil, Crithmum maritimum extract, Jojoba esters, Tocopheryl acetate, Xanthan gum, Polyhydroxystearic acid, Dicaprylyl ether, Tocopherol, Lauroyllysine, Sodium stearoyl glutamate, Algin, Perfumic acid, Citric acid Sodium, Salicylic acid, * From certified organic farming.
How to use
Apply to clean skin after your serum. Apply again often when exposed to the sun
Key Benefits
This has an age-defying effect and will reduce fine lines & wrinkles. This composition also prevents pigmentation, dark spots and effectively protects against toxic air pollutants, and is certified to the highest standard as Natrue Organic with a physical UVA / UVB filter.
The perfect texture for a light feeling with quick absorption, which means the skin does not get oily. The feeling is velvety, with the skin deeply moisturised and properly protected

SPF 30
Anti emissions
Deeply moisturising
Rejuvenating
Hero Ingredients
The active ingredients come from Organic Raw Plants. No heating and no greenwashing. Their approach is holistic and they use ethically and locally grown raw materials. The packaging is recyclable and works in the best way to minimise transport.
About the brand
Tash. sisterhood and Raw Plants skincare were born out of a holistic mindset based on three core values, female empowerment, sustainability and an inside-out, outside-in approach to health and pure beauty.
The majority of their ingredients come from the same small-scale organic farm. Straight from their natural state, the plants are handled with the utmost care. This ensures the maximum potency from vibrant, active, alive ingredients. We call it Raw Plants Skincare.

The products are the essence of Tash. sisterhood's values translated into safe beauty with the highest degree of Organic Certification - Natrue Organic.
Useful information about your shipping details
Show how much time customers have for testing your products
Let your customers know about local pickup