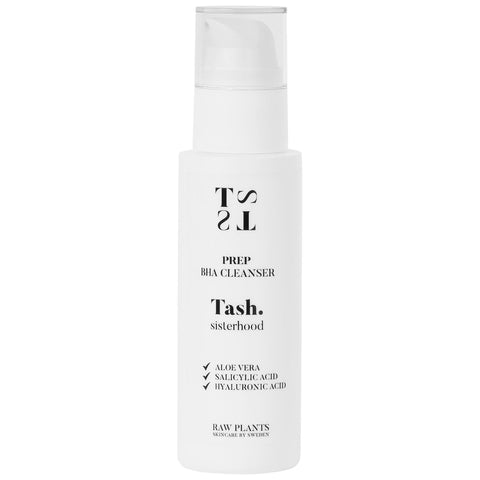 Prep BHA cleanser
Tash. sisterhood
Show more
Prep BHA Cleanser is a combined cleanser and a boost for your routine.
125ml recycled plastic bottle with pump.
Ingredients: Aqua, Aloe Barbadensis leaf extract * (Crude aloe gel), Glycerin (moisturizer), Sodium hyaluronate (hyaluronic acids), Betaine (moisturizer, Xanthan gum (emulsifier), Coco-glucoside (cleansing alcohol), Bensyl alcohol (Bensyl) ), Sorbic acid (antimicrobial), Potassium sorbate (antimicrobial), Algin (emulsifier), Citric acid (pH adjuster), Sodium dehydroacetate (antimicrobial) * From certified organic farming.
How to use
Pump one or two applications onto fingertips and massage the face, adding a little water if needed. rinse off with clean water. Repeat if necessary.
Key Benefits
Thanks to the gentle exfoliating properties, the skin is prepared for the next step in the routine. The PH-balanced formulation retains the protective acid mantle while the skin remains comfortable, clean and softened.
Hero Ingredients
Oil-free formula with BHA - Salicylic acid which deeply cleanses the pores while leaving the skin soothed and moisturised. Aloe Vera adds vitamins, minerals and polysaccharides, plus Glycerin together with a unique composition of hyaluronic acids gives a real moisturising boost.
About the brand
Tash. sisterhood and Raw Plants skincare were born out of a holistic mindset based on three core values, female empowerment, sustainability and an inside-out, outside-in approach to health and pure beauty.
The majority of their ingredients come from the same small-scale organic farm. Straight from their natural state, the plants are handled with the utmost care. This ensures the maximum potency from vibrant, active, alive ingredients. We call it Raw Plants Skincare.

The products are the essence of Tash. sisterhood's values translated into safe beauty with the highest degree of Organic Certification - Natrue Organic.
Useful information about your shipping details
Show how much time customers have for testing your products
Let your customers know about local pickup