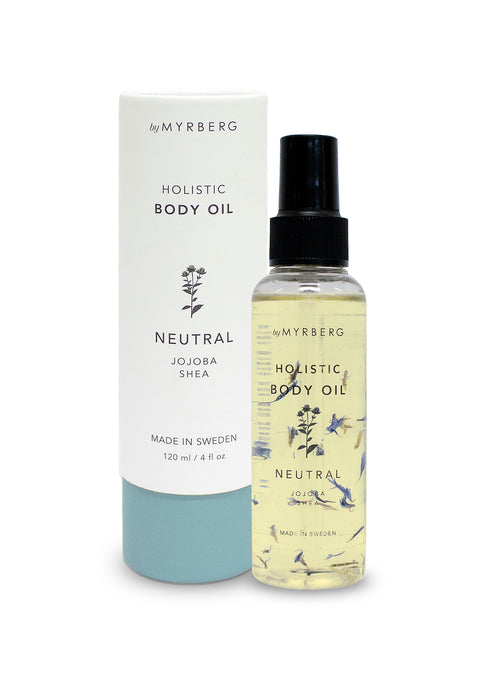 Holistic body oil : Neutral
Nordic Superfoods
Show more
It's a unique Body & Mind Ritual with 3 deep holistic steps that are explained and shown in a content video through the QR code on the bottle.
The Holistic Body Oil concept is based on Chinese Medicine and Aromatherapy and provides profound therapeutic effect on both body & mind. With Holistic Body Oil its easy to make your own daily wellness ritual and give yourself a holistic experience at home, based on your needs. 
Holistic Body Oil contains the highest quality of selected 100% natural and vegan premium oils such as jojoba, almond and thistle oil, shea butter and gives your skin a silky feel and lovely glow.
Fragrance free.

120ml plastic pump bottle, delivered in a smart gift presentation cardboard tube.
How to use
Apply to slightly damp skin after bath or shower. Used as body oil, for massage or in the bath.

Or if using with Acu Cups, apply Body Oil to the skin on the area you want to treat, squeeze the cup and place it on the skin. Release the cup to create suction and slide it over the skin in an upward motion.

Perfectly suited, with no fragrance and only calming effects, this HOLISTIC BODY OIL NEUTRAL is ideal for the face.



Key Benefits
Included in the ritual is a unique breathing exercise that enhance the effect you want to achieve, plus advice on how to combine with selected acupuncture points that you can press to deepen the effect on your body and soul.

This oil It has amazing anti-inflammatory and moisturising properties. Provides the skin with vitamins and nutrients that strengthen the skin structure and can help reduce scars and stretch marks.

Quickly absorbed and moisturises, strengthens your skin barrier and gives your skin that extra glow.
Gives the skin a silky soft feeling and moisturises and strengthens the skin's barrier.
Hero Ingredients
The Holistic Body Oil contains unique and exclusive 100% pure essential oils with effects that improves the health of the body, mind and spirit. It enhances both physical and emotional health.

The Body oil is a mix of vegan premium oils such as organic jojoba- almond- and safflower oil, shea butter and the antioxidant vitamin E, which protects the skin against free radicals.
About the brand
Copenhagen-based female founders of Bodyologist come with more than 30 years of experience within the beauty industry. The pair have made it mandatory to prioritise the effect and quality throughout when selecting ingredients. They simply want their products to work. They also aim for a high share of natural ingredients – without compromising the efficacy of the product.
Another active choice is to not use outer packaging or enclose leaflets if it's not absolutely necessary to minimise waste, whilst all gender-neutral containers are PET bottles and the pumps are PP which are all widely recyclable.
Djusie
Djusie is a visionary F-Beauty brand offering a high-quality natural skincare. But what do we actually mean by F-Beauty?
K-Beauty, known as the umbrella term for Korean skincare, is already an institution admired throughout the world. When we first started creating Djusie, it suddenly hit us like a lightning: Why doesn't F-Beauty exist yet?
F-Beauty stands for Finland but the other F-word, functionality, is essential too.
In Finland, we're sometimes too good at it. We need little wakeup calls to remember the importance of self-care, indulgence, and pleasure. That's why each Djusie product comes with a dedicated ritual. Needless to say, they are enjoyable, highly effective and simple by design.
Every movement starts with the first steps. Our ambition is not to compete with institutions like K-Beauty or make F-Beauty famous. Our goal is to celebrate our own natural Finnish way of doing things – and share the juiciest fruits with you.